I have been beading almost non-stop and I have a very sore right hand as a result. When I do the commission fish quilt, I must remember to give myself enough time so I only do a bit of beading per day. And, yes, I got a call and I will be making another fish quilt for the pool house in Los Altos.
I am not thrilled with the beading on the bottom of this one, but it is what it is and it is off to the venue tomorrow morning.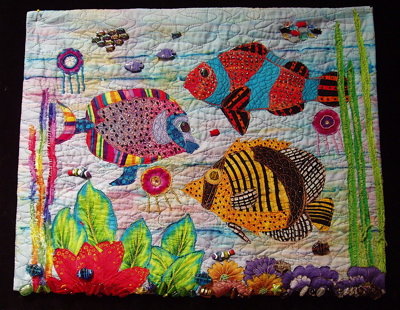 This is called Tropical Trio. The photo was taken at night and is not the best quality.
This afternoon, we sold a house and bought a house. I must have signed my name a hundred times. The we went to Kaiser to ask about how we transfer our health care to the Portland facility, and I saw the vampire to have some blood drawn for my quarterly cancer follow-up.
We then stopped off at the men's store and bought Mr. C this really cool tie to wear to the Mardi Gras ball.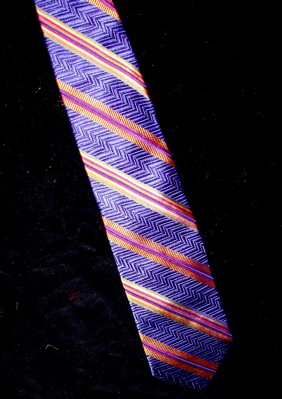 I just noticed that it is 1:15 in the morning. Better get to bed. Tomorrow, I will be having an outing with my good friends, Rita, Janet, Pat and Diane. We are going to lunch and to see the exhibit that two fiber artists have at the Taft Street Winery in Sebastopol.