I just was not happy with the quilt as it was developing with the gradation of crosses. I went back to look at the original piece which inspired the client to ask me to do this larger piece. It was so simple and so elegant and the colors of the crosses had wonderful movement up the banner. So I removed all of the crosses and started over with just one size. Fortunately I had some of that size already cut, but I had to cut a lot more! So here it is with the crosses pinned on. Tomorrow I will fuse and start sewing.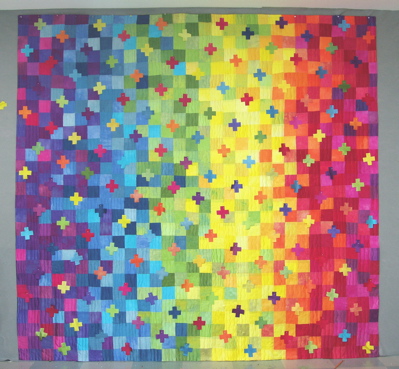 I have been very busy doing other stuff. Yesterday, I got in over 12,000 steps. Today, I have over 11,000. Last night I went to STASH at Beth's house. She made the most incredible raspberry pie. The raspberries were from her garden. I woke up this morning craving another piece!!
Today we took M & M out to lunch to celebrate the end of school. We went to their favorite restaurant, Mio Sushi. We feasted on edamame, miso soup, sushi, udon noodle soup, sashimi and it was all so good.
Tonight, I went to my first meeting of the Columbia Stitcher's Guild. This is a guild of all sorts of fiber folks – weavers, wearable art, and the art quilter's – High Fiber Diet. They meet quarterly. Our guest speaker spoke about adapting ethnic patterns for modern day wear. I loved some of the stuff she showed, and we got patterns, Hope to have something to show in the future.
Tomorrow is the monthly art date with Terry and June. I am busy, busy and having lots of fun!