Liz Hinze, from right here in the Portland area, will get the funky valentine collage and Missy Jordan, from Louisiana, will get the Kyoto Hearts postcard. Missy, did you know that I my maiden name was Jordan? Thank you to all 39 of you who left me such wonderful comments and have inspired me to keep on blogging for at least another 5 years. Mr C drew the names.
I am quite busy trying to get some things done before we leave for a little soujourn to California. We are leaving early on Wednesday and heading South. We will stop at Coos Bay to see the quilt show at the art museum. Then we will keep driving south on 101 until we need to stop to spend the night. Thursday we will stop in San Francisco for a couple of days visiting Mark, Jayme, Lisa and her gal pal, Clay. Lisa has a show opening on Thursday night.
Saturday, we will keep on heading south to the Mojave desert and the town of Twenty Nine Palms where we will spend a week, hoping for some sunshine and warmer temperatures. Looks like it will be a bit rainy and in the 60s. While there, we are planning lots of side trips with Mike and Ann, my husband's brother and wife. We are going into Oceanside one day to see the Visions Quilt show. I am so happy that it has been extended this year. It is usually over by the time we go down in February. I will have a studio available for doing some work so I will take some supplies with me.
I started work on the collage piece. First, I fused all the fabrics with Misty Fuse.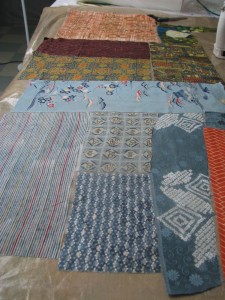 I used some Japanese fabrics for the background. I usually use dupioni silk.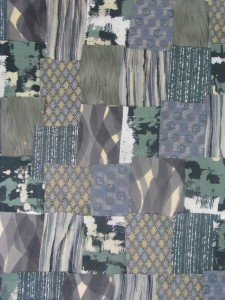 Here is a sneak peak at the work so far. I think I will have to stop at this point and take it with me.
As I have mentioned, the High Fiber Diet group is doing a show titled line dancing. Each piece will have a lime green horizontal line. I rotated Indigo Construction and am contemplating entering it. I will remove the dangling threads, if I do this. What do you think?