Los Angles area had rain and snow in the mountains. We had wind and some spritzing. Mr C and I took a walk in the morning and the sun felt so wonderful, even with the wind. After lunch, we decided to drive to the outlets, about an hour west of us. The further we drove, the worse the weather was. It was pouring and the roads were flooding. There were accidents from hydro-planing and warnings of flash flooding and snow in the pass. Guess what we did? We turned around and headed back to the comfort of the high desert. We could see the sun shining on Twentynine Palms in the distance. There was a rainbow, but too faint to show up.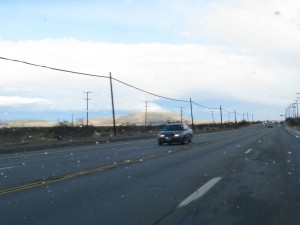 Outside the kitchen window, is a fenced in area where Diana, the housekeeper, feeds the birds. I love watching them when I am in the kitchen.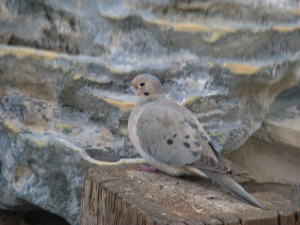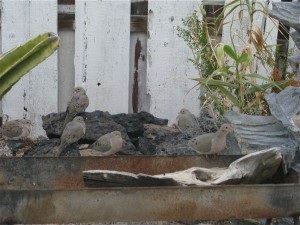 There are lots of doves and another bird, I have not identified yet. This morning I saw a beautiful California quail, but by the time I got my camera, he was long gone.
Today, we are driving through Joshua Tree National Park to the Salton Sea. It should be a great photo op. The weather is clear, the sun is blazing and the wind has died down.