Jiggety jig. I am all rested and destressed after a couple of beautiful days at the beach with friends. I am still allergy plagued, but dealing with it.
Here is a photo synopsis of the trip. You can see all the photos HERE.
We had a beautiful view of the Pacific Ocean, the beach and 3 Arches Rocks from our house on the hill.
Sunset on Wednesday evening.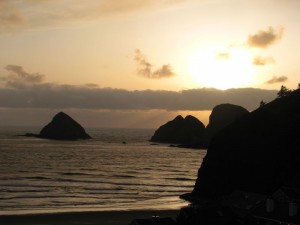 A clear and sunny morning on Thursday.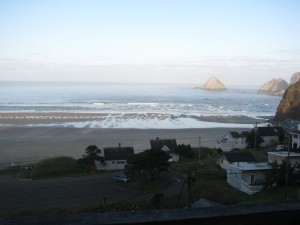 A rainbow later in the day. We also had some hail.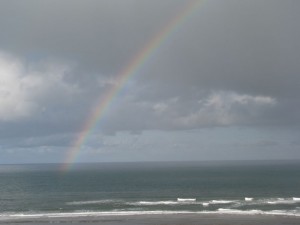 You can see the hillside above the beach and our house.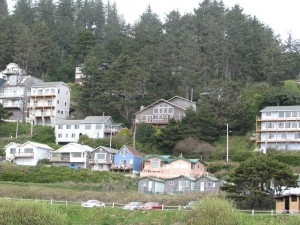 Here is a closeup of the house.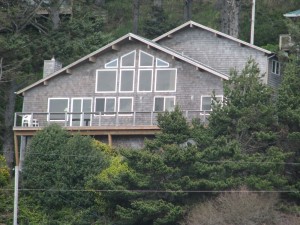 Terry, Beth and Reva got to work on Wednesday afternoon.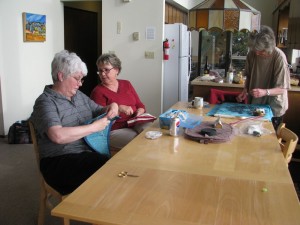 Terry made this crow while at the beach.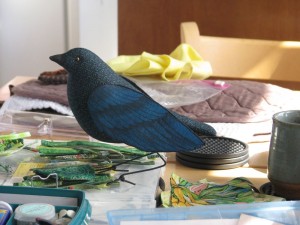 Gale was working on a bird nest from these wonderful fabric strips.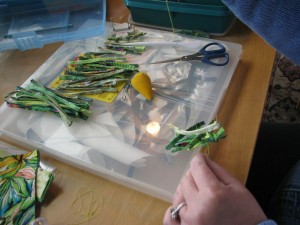 Beth made some wonderful soup for us to have on Wednesday night. It was so good, we decided to stay in on Thursday night and have the leftovers and the snacks that we had brought with us. Here is the gang digging in.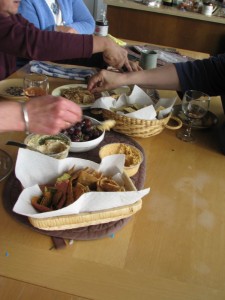 I can't show you what I did because I did more work on my 12 X 12 piece. Terry guessed what it was and she is doing the same thing, but it will be a different take. We, of course, stopped at the Tillamook Cheese factory for the requisite ice cream lunch before hitting the road for home. Mr C and Maggie were happy to see me. I took Maggie for a nice walk and Mr C and I went out for dinner where I ehjoyed roasted halibut – mmm good.