… and all through the house, there were piles of wrapping paper, dirty linens, half eaten cookies and memories galore. I won't share the mess, but here are some memories.
On Christmas eve, we feasted on dungeness crab bisque (Lisa declared this the best Christmas soup, ever) and mini-sandwiches, great cheese and crackers and an assortment of cookies. No photos, because I was too busy cooking. I finally created a graham cracker snow cottage.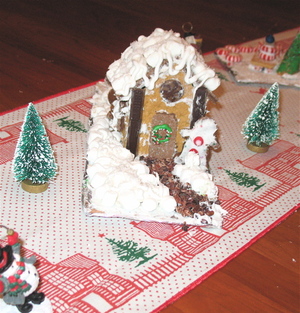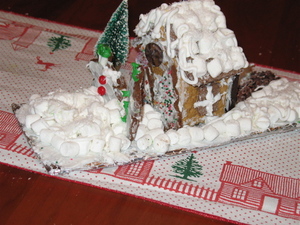 Many years ago, I acquired this Christmas table runner which has seen us through many Christmases, but in recent years has not come out of the storage box. Somehow, it seemed to fit into our new mid-century house and needed a little village to complete it.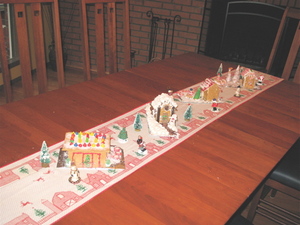 It is our tradition to open gifts to each other on Christmas eve. In the morning, we find gifts from Santa in our stockings. Here are M & M. I call this ready, set, unwrap!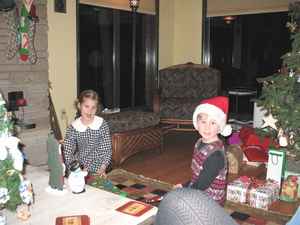 Mr C and I went to mid-night mass at Trinity Cathedral. We had to get there between 9:30 and 10:00 pm to get a parking spot and a seat, but it was so worth it. What a magnificent service. The choir was excellent. We filled stockings (did you think there really was a Santa?) and dropped into bed at 1:30 am.
On Christmas day, Steph served a delicious brunch of sour cream coffee cake, our family egg, cheese and broccoli dish and bacon – oh, and Mimosas!
Christmas dinner at our house was crown roast of pork with wild rice and apricot stuffing, roasted Brussels sprouts with pancetta, roasted rosemary potatoes, spinach salad with pears, blue cheese and spiced pecans and whole grain bread. This was followed by more cookies because Steph and I ran out of energy to cook a special dessert.
I love a hand-made Christmas. These are my special gifts from the family. Steph asked if I had any fabric left from making my new kitchen curtains and this was the result, a bistro apron and oven mitt. I just love this.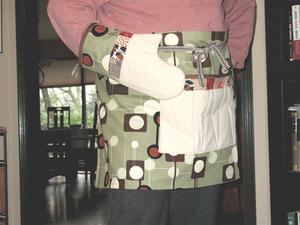 Lisa's good friend and artist, Diana, made this plate just for me. I adore it. (Kristen, this does not mean that I won't be bidding on the plate in the Kim Family Auction – I need a companion – sorry!! :} )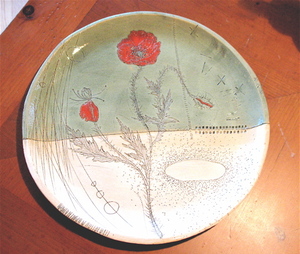 I am in love with this detail: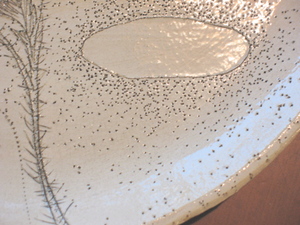 Mr C gifted me with this gorgeous necklace by an artisan who sells work at our church art and gift shows and this hand-loomed stole.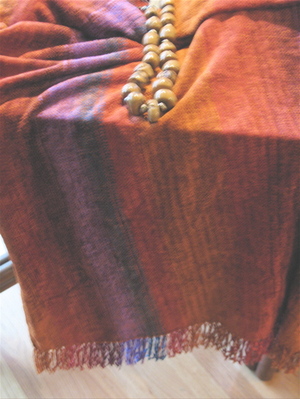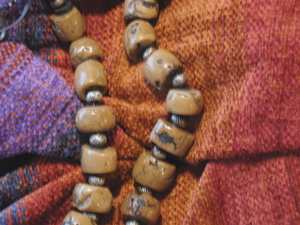 Steph and Lisa are working on the Kim Family Auction today. I will blog more about that tomorrow. There are some fabulous items to be auctioned. Hope you got some cash for Christmas to spend on a handmade work of art for yourself.