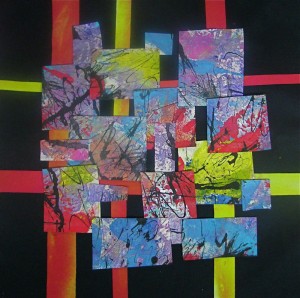 By this afternoon, I was feeling much better. The antibiotic and saline rinses did their jobs, and I returned to some normal activity. Did some major food shopping at Trader Joe's; worked on the SDA website and attended a High Fiber Diet Meeting tonight.
I was itching to get back to my paint rag collage. I felt I needed something to make a more cohesive and interesting collage. I remembered some hand-dyed fabric with red and chartreuse in it.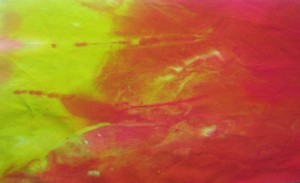 I cut some strips to layer under the cut pieces. I also changed the background to black canvas rather than the plain cotton fabric. I need to continue working on the arrangement of the paint rag pieces. I also want to rearrange the red and chartreuse strips. It felt good to get something done.
At the High Fiber Diet meeting, several people divulged the themes that they are developing for the Bird's Eye View show. They all sound very interesting.
Here is the postcard for the Significant Stitching show which opens this week-end. I love the piece that is on the card.