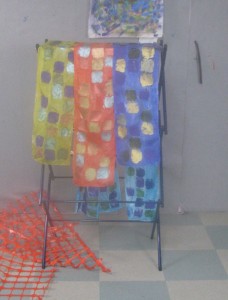 I spent today playing with an idea that I got in the middle of the night. I must admit to loving the marks made by using construction fence as a stencil. I used Jacquard Lumiere paints on silk habotai scarves. I didn't try to do a perfect fill in of each square.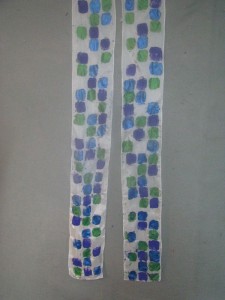 After the paint dried, I heat set it with an iron and then overdyed with the Colorhue dyes. I am pretty happy with them except that the paint does not give as nice a hand to the fabric as I would like.
Tomorrow is the quarterly meeting of Columbia Fiberarts Guild and my first time to preside as president. I am a wee bit nervous. We have a lot going on — Marianne Burr is our guest speaker. If you are not familiar with her work, click on her name. I love her work. We also have our silent auction to benefit our women's prison outreach and member boutiques. After the meeting, Karen Miller is doing a mini-workshop on making embroidered medallions/amulets. So much great stuff that no one will notice my bumbling.