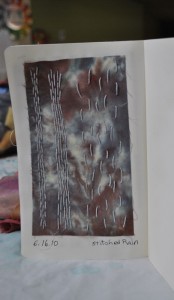 We Portlanders are consumed by our terrible weather. We are only half way through June and have broken the rainfall record. I think we have record cold temps, too. I am so tired of my winter layers of clothes and socks. Not to mention that I now have a scratchy throat and probably have caught a crappy cold. Oh woe is me!!
Anyway, for today's fiber sketchbook, I grabbed a piece of fabric that was gray, brown and white and reminded me of how the day had looked — like the middle of winter. I thought about how to represent rain. I grabbed some gray Perle cotton and started stitching. I did some more controlled and even stitches, but felt happier with the more random stitching on the right. Rain is random, right?
Here is a tease of what is really making me happy.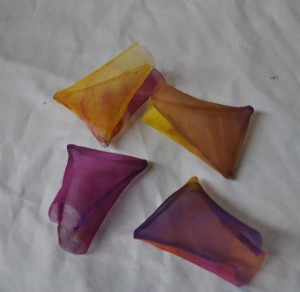 I just love this organza that I painted and the interplay of the colors.
Today, I received a packet of postcards for the Beneath the Surface special exhibit which is premiering at IQF, Long Beach, in July, and then going on to IQF, Houston, in November. The postcard is really well done and eye-catching.