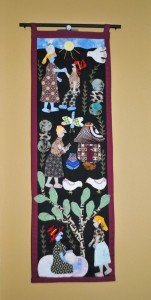 The art Exhibit for Trinity Cathedral Arts in December is always  work represented by an outreach program. We have done Haitian arts, local out reach programs such as p:ear, a resource center for homeless youth and this year we invited the Zimbabwe Artist's Project back for a second time. The parish hall was brimming with textile wall hangings telling delightful stories as well as a variety of painted pieces. 100% of the funds collected goes back to the organization. In this case it will go back to Zimbabwe where it is much needed for food and clean water.
I selected the piece above which is about 36″ by 12″. The artist Orpah Mungure. (Did you know that Oprah's name is a misspelling of Orpah, a Biblical name?) If you click on her photo, you can read about her.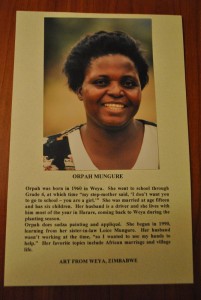 Here is the story of her piece. Mbuya (granny) Shonge is on the way to the shops to grind some mealies (corn) She meets her brother Tigere. She is greeting him.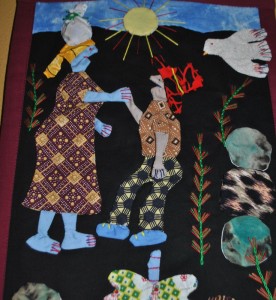 Mbuya is holding some firewood so that she can put some fire in her kitchen to cook her food for lunch.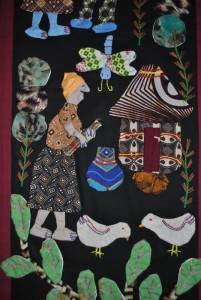 Tima is giving Mbuya Shonge a basket so that Mbuya can give her some mealie meal (cornmeal) to cook sadza (thick porridge) because of hunger in Zimbabwe.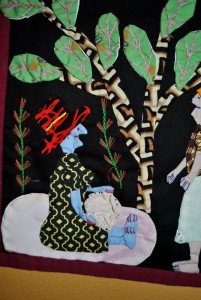 This was hand written by the artist. The original is tucked into a pocket hidden in the applique. Isn't that cool? I love the applique in the wonderful African textiles. This is a real treasure.
Here is my sketchbook with the tie. I made a video of the sketchbook with my new Flip camcorder, but it is not that great so I am going to do it again. I have a short video of the cover, but I can not figure out how to get it in the blog. I will figure it out someday.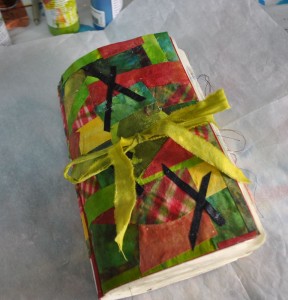 I spent some time getting my self portrait mounted on stretcher bars. It needs to go to Trinity on Tuesday. Thursday night, we have an opening reception from 6 – 8 pm. If you are in the area come by.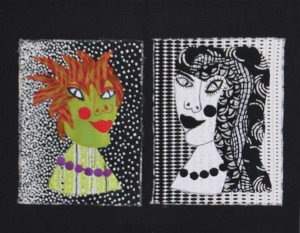 My artist's statement: The black and white image is based on a photo of me when I was twenty. Fifty years later, I am not the beauty I was then, but I am a much more colorful and interesting person.