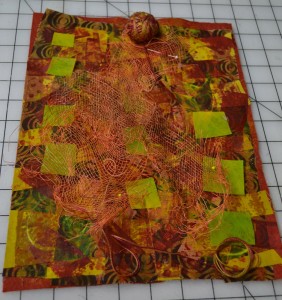 I am being pulled in too many directions or maybe I just can't focus. I talked to Steph on the phone today,  and she is having the same problem, but she has two children to tend to so I think she is being too hard on herself.
I have had a lot of little website things to do. I always feel compelled to do them as soon as they come in. It has been a constant string of interruptions today. I had planned some studio time, but I never made it until tonight.
Oh, here is another thing. I know that someplace in my studio, I have a piece of hand-dyed cheesecloth in browns and oranges. I think that Kristin sent it to me with some other hand-dyed fabrics. I wanted to use it as another layer for the orange and brown woven background. I have wasted so much time looking for it. Now, I am trying to remember if I used it on another piece.
So, I was looking around and saw an onion bag that I had been using for surface design. I cut some strips and pinned it to the background. I also cut up some green painted lutradur which I glued down. I started handstitching it with the perle cotton that is in the photo.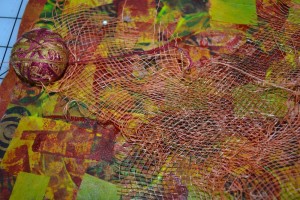 I think it is a good exercise for me to keep working on this and find ways to make it more interesting.
In the meantime, I am really anxious to get to work on the organza water piece. I am just in love with the way the painted organza looks. I started cutting strips to piece for my little pockets. The due date has been changed to March 1st – which is part of the reason I was busy updating the website today. However, I have other deadlines so I am going to get this done as soon as I can.
Yesterday, I went to my first Palates class. I can walk today, but I sure am feeling it. I really enjoyed the camaraderie with the other women who were essentially in my age division. I am going back tomorrow morning.
Today, on my walk with Scooter, I took some photos of the rain forest effect that we have going on here with all the rain and the mild temperatures.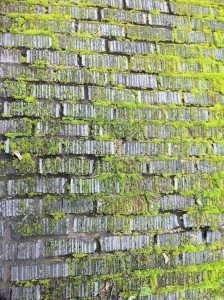 A mossy walkway.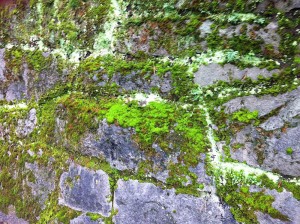 A mossy stone wall.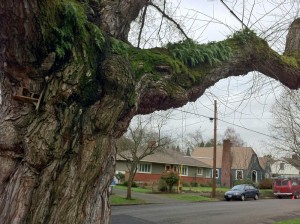 Ferns growing in trees.