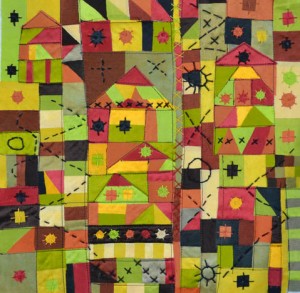 First, I am in danger of adding too much to this piece. But, I am having so much fun. It is almost finished.
Secondly, the bridge piece is history. It is never to be seen. I painted the bridges black and took a photo and ugh! The composition is really off. I can use some of the background for small pieces like postcards so it won't be a total waste. But, I had to admit that it was futile to spend more time on it. Whew! I love facing reality sometimes.
I had a great week-end. I made a delicious meal for the family — chicken tagine with apricots and almonds, couscous, Caesar salad and a delicious Bumble Berry Pie. I used berries from the freezer — raspberries and Marion berries. The chicken was coated with a mixture of cinnamon, ginger and turmeric and it was so beautiful and tasty.
M and M came early so that Steph and Jack could reorganize and clean his office. We watched "Tangled" – so much fun. When they arrived, Mia warned me that she might smell like rabbit.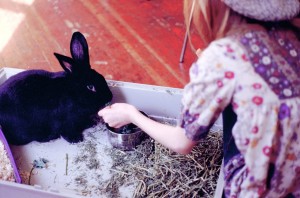 This is Stewie, the classroom rabbit, which she took care of for the week-end. I stole the photo from Steph's flickr, hope she doesn't mind!