I am so jazzed and elated. I finished the studio clean-up and reorganization today, just in time for a crit meeting with June and Terry tomorrow. I have one little room to work on. It is the little kitchenette. I need to reorganize my dyeing and painting supplies.
Here is one of my design walls. It has work in progress, work rejected from shows and other miscellaneous stuff.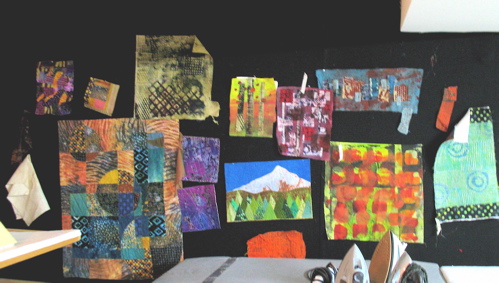 In front of the design wall you can see a glimpse of my iron collection: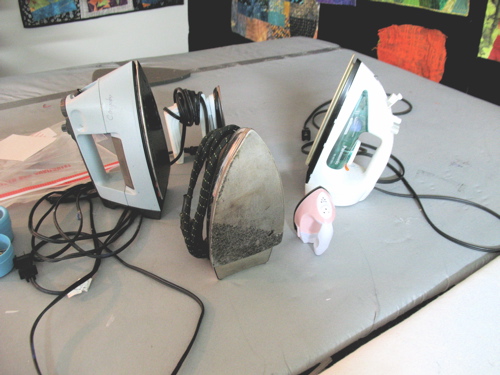 I have never used the cute little pink princess iron because I can't find the cord. The one to the left of that is a non steam iron. It is an old Black and Decker which many people covet.
I have one other job that I want to accomplish. That is to organize my fused scraps by color. I think they will be more useful. Here are two bins of scraps.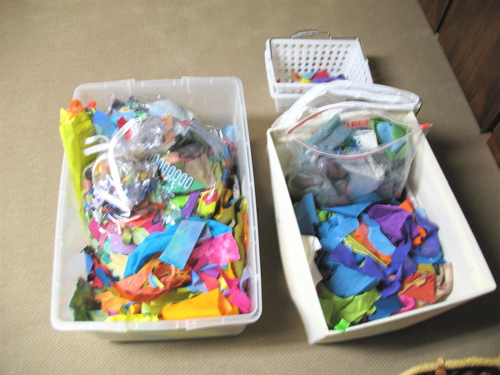 Mr C has been working on the yard in the back of the house. He has dug out a pathway which is lined with bender board. It will have gravel added at some point. Today, he transplanted a Japanese maple, that had been in the front yard, to my studio patio. I have some nice plans for this area such as a cutting flower garden and a fountain.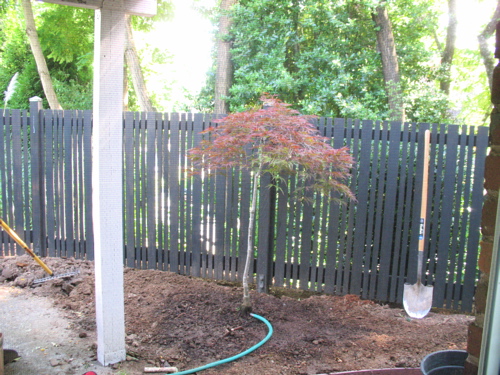 Tonight, Mr C and I treated ourselves to dinner at ClarkLewis. I had a roasted beet salad that was sooo good and pasta made with squid ink and a heavily garlic sauce with grilled shrimp. We shared a delicious chocolate concoction for dessert. I tried two new wines — a chilled pinot noir rose with salad and a new white wine — a Fruili blend from Oregon's Cameron winery. It was so smooth, not rich like a Chardonnay and not as acerbic as a Sauvignon blanc.
All in all, it has been a very satisfying day, but, of course, the rain is coming back this week-end.