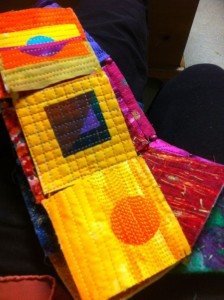 Have you heard that Google Reader is going away? I know some people have been bemoaning the fact. I have started using Feedly and I really like it. The iPad and iPhone apps are really great, too – better than Flipbook.
It has been a crazy couple of days.  I had SAQA meeting here yesterday. That meant some spiffing up time by Mr C and I. Not to mention getting seating set  up for about 20 people and making 3 pots of coffee.  We had a good meeting. One of our members gave some great information about thread. I learned some things.
Today, I went in for my quarterly blood work and wow, are my numbers down. I am not sure how low my cholesterol should go, but it is now 127! Mr C says I should start eating eggs!
Tonight, I went to see an exhibit of art quilts by a group of 5 women I know. They also showed the documentary, "Stitched," which was a lot of fun to watch since I know a lot of the featured people.
I completed stitching another row of 3 x3s. I have 3 rows done, so far.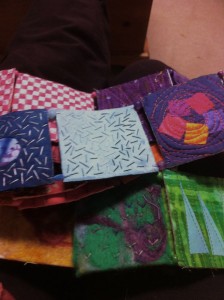 I have been working on the silk quilt, too. But am not going to show any more photos of that.
Here is my drawing for today – one of my favorite foods.