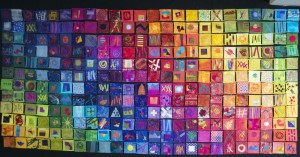 Thought it was time to document the progress on the 3x3s. I hope to have the rows stitched together by the end of November. Then I have to connect the rows. I have an idea of how I will do that. Here are the remaining 3x3s.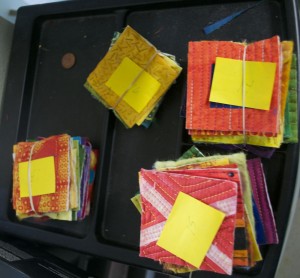 I am starting to declutter and box up studio stuff for the move. I am starting with the dye/paint kitchen. I am going to completely empty it, box of stuff to go to the new studio, set aside stuff to donate to my guild's silent auction and trash what is useless.
I have the cabinets empty.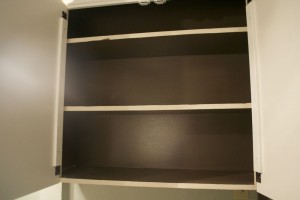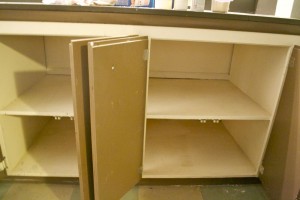 I still have to do the undersink cabinet.
I have so much stuff that I want to hang on to because I am thinking of doing some classes in my new studio – small groups and one on one.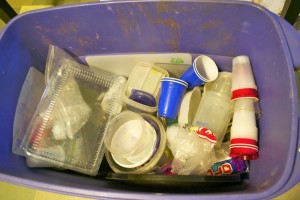 This is a tub of painting supplies, but not the brushes – just containers.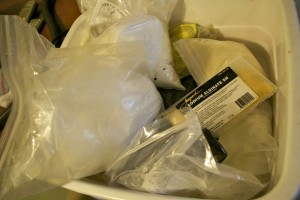 A tub of chemicals!!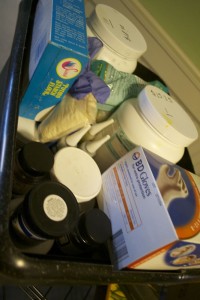 A tub of dyes and disposable gloves. (if only I would remember to put them on)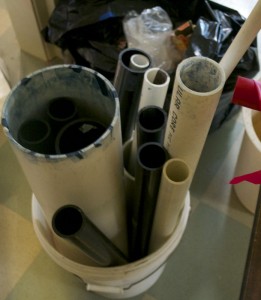 Shibori poles.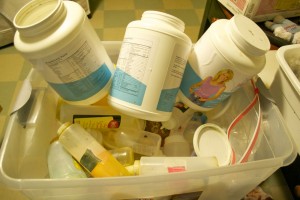 Dye squirt bottles and containers.
The sorting table and my ubiquitous bottle of water.
I am feeling so much better this week. That virus I had knocked the stuffing out of me for a week. All of a sudden, on Monday, I was back to normal energy and happiness. It also helped that they finished the roof and chimney repair yesterday and packed up and left this morning. Nice to have peace and quiet again.