What a difference a day makes. I came home today, full of energy. I took Maggie for a long walk after I rinsed out the days dyeing and threw it in the washer. I made a fabulous dinner of grilled pork loin, roasted butternut squash, steamed haricot verts and a yummy Asian slaw. Then I ironed my fabric, photographed it and stitched some pieces for tomorrow. I am woman; hear me roar.
Look at these gorgeous pieces done by a class member who is a weaver. They are woven of some unusual fibers. The one on the left is bamboo and the one in the center is soy. On the bamboo piece, she wove in a yarn that was pulled and tied to create the pattern. The second one was simply knotted in 3 places and the third was arashi wrapped on a pole. That is Judyleigh, our instructor.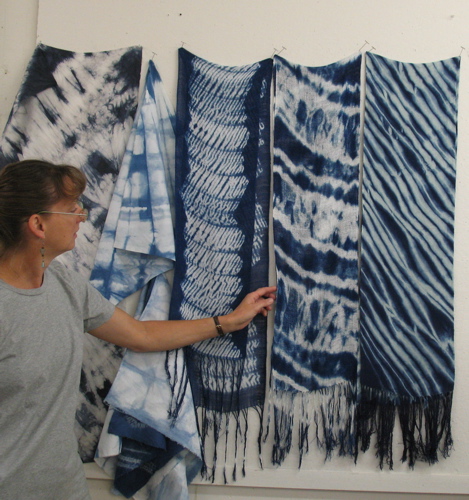 I dyed some of my silk/cotton blend in brazilwood with an alum mordant. I really love this reddish color. I am going to do some more tomorrow.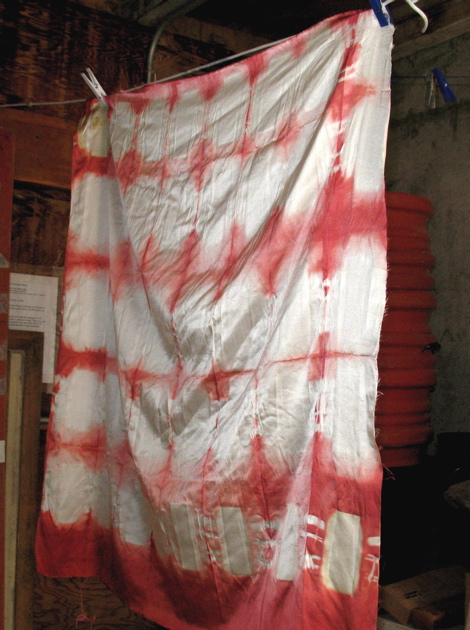 Here is most of today's work. I was in to lines and circles today.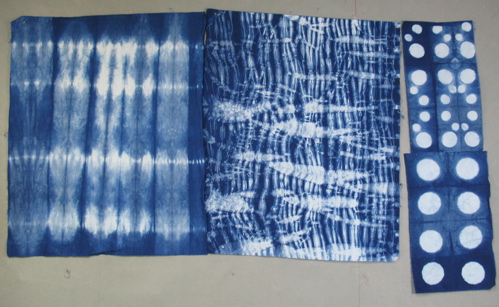 Left to right:
cotton, accordion pleated and tied with a one inch ribbon at four intervals
cotton, arashi wrapped on a pvc pipe.
cotton, folded and clamped with various circles as resists.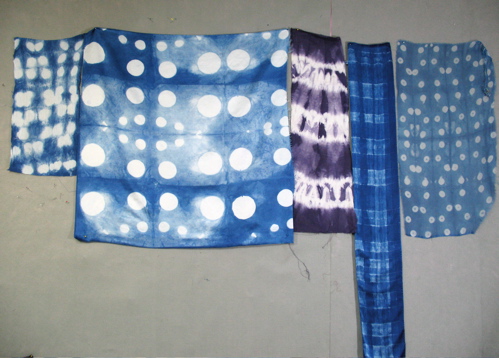 Left to right:
pleated silk chiffon, folded and clamped with circles
cotton/silk folded and clamped with various circles.
dupioni silk, tied and dyed in logwood with an alum mordant. A really wonderful purple
silk charmeuse scarf stitched and pressed vertically then stitched horizontally and pressed — shibori plaid (on sewing machine)
silk organza, folded and clamped with metal washers.
I am getting so much out of this class that I can transfer to my procion dyeing. There are 8 of us in the class and only 3 are quilters. It is quite interesting to see what the others are doing.