At the High Fiber Diet meeting last week, while discussing Wabi Sabi, it was brought up that Wabi Sabi encompasses Fall and Winter. After meeting with the Japanese Garden Cultural Coordinator, we have changed our theme to "Rustic Elegance" as she felt it was not possible to use Wabi Sabi as our theme. However, I got this winter thing in my head and I decided that I just have to do a winter bamboo fence piece. I will probably do a fall piece. too.
Today, I made another bamboo screen to use as a back ground. I screened it on hand-dyed cotton with black and silver textile paint.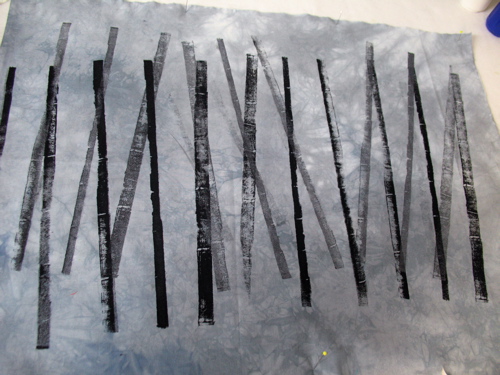 This piece will be done in greys, black and white with some touches of red. Here is a bamboo fence that I screened on gray organza. I am going to print a black fence on white organza.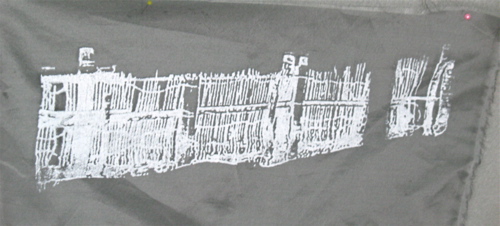 Here is the other fence printed on silk with some vintage Japanese fabrics that I am auditioning. I am also painting the bamboo to look aged and white.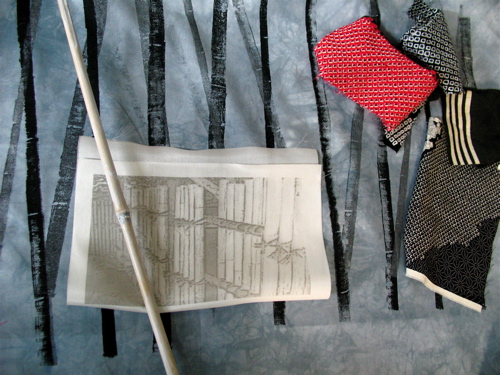 We are having strange weather — sort of humid and overcast. I think we are going to have lots of rain tomorrow. Good weather for playing in the studio.