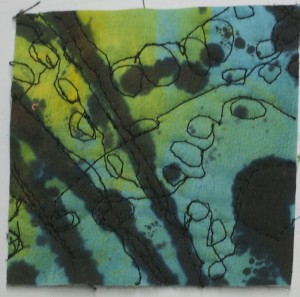 So, here we are in hot, dry Sisters! We dropped Scooter off at the K-9 Resort this morning and then headed towards Mt. Hood.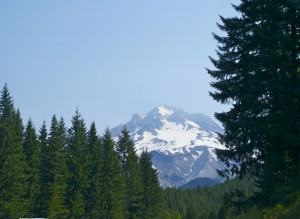 Then, on to Rt. 26 headed east to Central Oregon.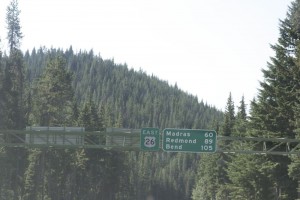 We were soon into an area of Oregon we had never seen. The landscape is first High Desert – flat wit sagebrush. We could see Mt. Jefferson off to the South.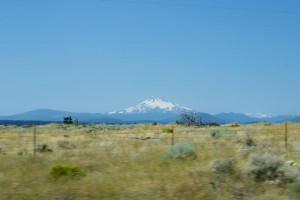 Then, the landscape became much more rugged with high mesas and deep canyons and gorges.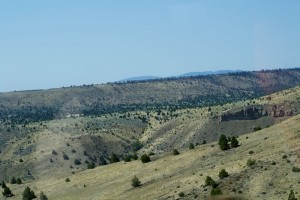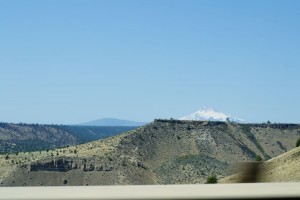 You can still see Mt. Jeff in the distance.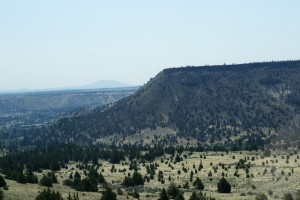 Then, suddenly, there is the beautiful Deschutes River. This is a blur because we were whizzing along in the car.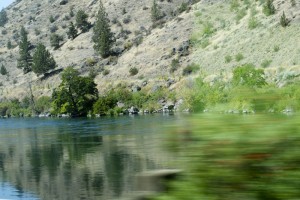 These cliffs above the river show many geological layers.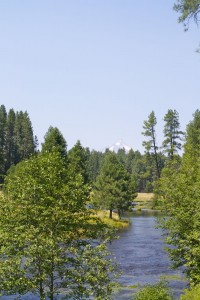 We made it to Sisters and went on to Camp Sherman, hoping to find Steph, Jack and M & M, but they got in later than we expected we will go to their campsite and find them tomorrow. We had a nice lunch at the Camp Sherman store and checked out the beautiful Metolius.
We checked into our little cottage in Sisters. It has no AC and the temps are in the 90s so we have all the fans going. We drove out to Black Butte Ranch for dinner. It was delicious.