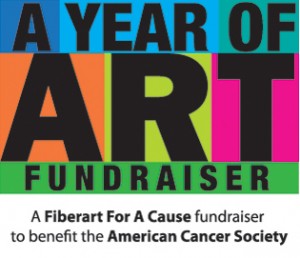 I am pleased to support Virginia Spiegel's American Cancer Society fundraiser for 2013 in a small way. I am donating a copy of the Twelve by Twelve book  for the grand prize package. A Year of Art opens on this coming Tuesday, February 12 and continues on Wednesday, February 13.  It's two days of fiber-licious fundraising for the American Cancer Society. Here are five quick tips to help you join the fun:
1. Auction. Bid on artwork from eleven artists arranged on a calendar grid. The art may or may not be themed to the month. See all the artwork.The All-Star Team of Artists:Pamela Allen
Pokey Bolton
Linda Colsh
Jane Davila
Vivika DeNegre
Jane Dunnewold
Jamie Fingal
Karen Stiehl Osborn
Yvonne Porcella
Virginia A. Spiegel
Laura Wasilowski

2. Drawing. Donate and you may win the $1550 prize package from 27 Inspiration Sponsors. Inspiration Month Drawing
So, I hope you will join in and bid on some artwork or make a donation for a chance to win the prize package. The goal is to raise $8000 to add to the $220,000 raised in the past. As a cancer survivor, this fundraiser is near and dear to my heart.
I am taking a deep breath and posting today's sketch with which I am not happy. But there it is taking up a page in my sketch book, so here goes.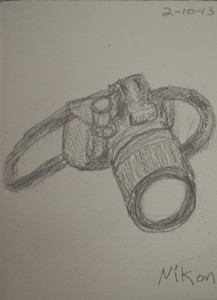 I need to find some more interesting things to sketch!!