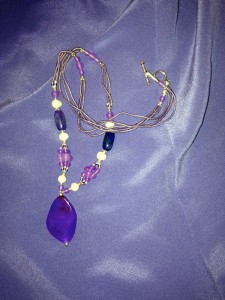 Yes, I am really trying to stay calm in the face of all I have to get done by Tuesday afternoon. I just realized that I had neglected to gather my supplies for Kerr Grabowski's design workshop. I think I have most of the stuff I need, but she said to bring as many paint chips as we could so I need to make a little trip to take care of that.
I had looked in vain for the right jewelry to wear with my dress to the wedding. Today, we took a trip to downtown Portland as I wanted to look in the Everything Silver shop in Pioneer Square. They didn't have just what I wanted and we wandered into a funky little shop called, Katmandu, run by a young hippy couple – so adorable were they. I got this necklace, which was made in Afghanistan. Love it. I also got these earrings which were made in Nepal.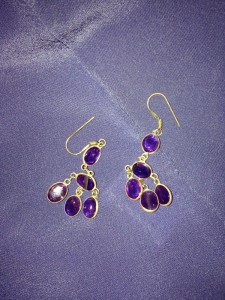 The colors in the photos are not quite true, but they look great with my dress.
On Saturday, we went to the AT&T store and upgraded our phones. I now have and iPhone 5, which I love. Mr C had a 4s. We have been having fun with Siri. I got a wild Otter case for mine.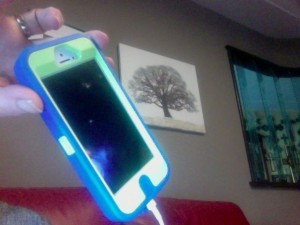 I spent yesterday and this afternoon, designing and printing name badges for the conference. I will get them shipped to San Antonio on Tuesday morning before we leave Portland. I had to have pre and post conference workshop badges, conference badges, vendor badges and day passes. I still have to finish stuffing them into the plastic cases.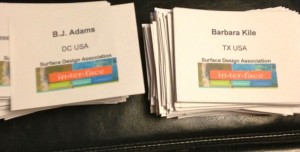 This morning, I had my last Sunday School participation. We had an end of the year party and celebrated Trinity Sunday. The kids got to decorate Trinity cookies.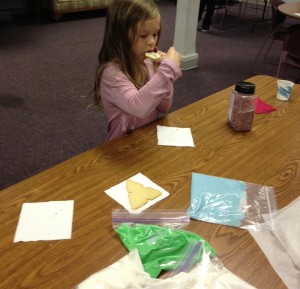 I probably won't post much over the next week. I am getting so excited to see the family from near and far, my little Paige, all of Lisa's friends, Clay's family and then I get to head to San Antonio for a fantastic fiber week. I am so blessed.
I have to end with this bit. The young Moms I work with in Sunday School could not believe my age and wondered my secret. I told them it is sun screen, hair dye and good attitude.