Mr C and I spent a nice couple of days in Seattle, enjoying some art and good food. I feel creatively and spiritually fulfilled. We went to two museums, I will post about them tomorrow. Tonight, I will share some photos from the Sacred Threads show. The above pieces are by Vikki Pignatelli. She founded  the Sacred Threads exhibit. Her work is exquisite with loads of curved piecing and beautiful quilting. Here is a tree.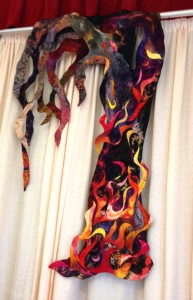 A detail shot shows the beautiful workmanship.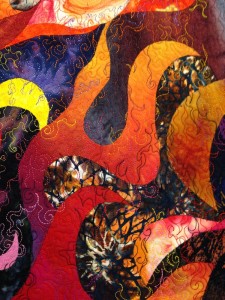 Here is my Aspen Quilt, looking dwarfed next to the wedding of Adam and Eve.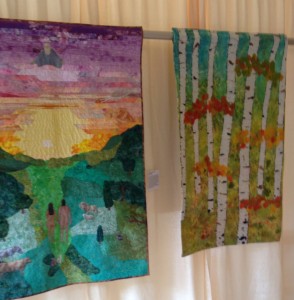 Here is some other interesting work. I thought I took photos of the names, but can't find them.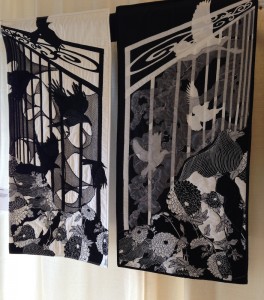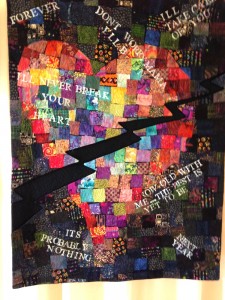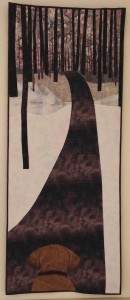 This piece is by Wen Redmond.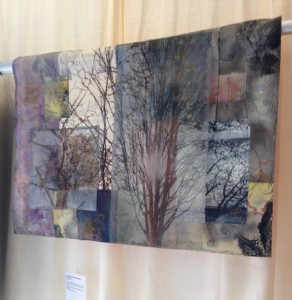 And this piece was by Ginny Greaves.
A added benefit for Mr C and I was getting to see two volumes of the St. John's Bible.
The Saint John's Bible is the first completely handwritten and illuminated Bible to have been commissioned by a Benedictine Abbey since the invention of the printing press.

Beginning in 1970, master calligrapher Donald Jackson expressed in media interviews his lifelong dream of creating an illuminated Bible. Following a Saint John's-sponsored calligraphy presentation at the Newberry Library in Chicago in 1995, Jackson discussed a handwritten Bible with Fr. Eric Hollas, OSB, former executive director of the Hill Museum & Manuscript Library at Saint John's University in Collegeville, Minnesota. Between 1996 and 1997, Saint John's explored the feasibility of the Bible project, Jackson created first samples, and theologians developed the illumination schema. The Saint John's Bible was officially commissioned in 1998 and funding opportunities were launched. The public was introduced to the project in 1999 and production was completed in 2011, with the final word penned in May 2011 and touch-up work completed by December 2011.
The Epiphany Parish, where the Sacred Threads exhibit was held has two copies of two of the volumes: The Gospel and Acts and The Prophets. I love the art work in these books. The actual pages are kept at St John's and copies of the pages were printed so that they could be shared around the world. There are also coffee table size reprints. I came home and ordered the Psalms edition.
Here are some photos of some of the pages: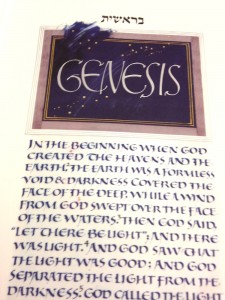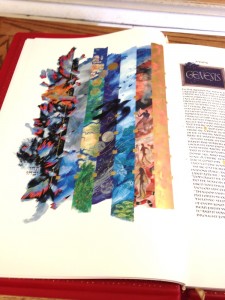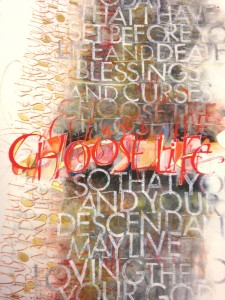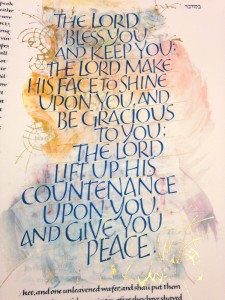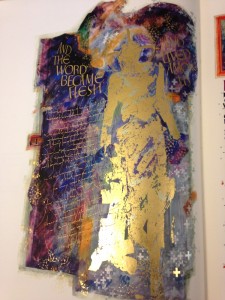 Some of you may know that I have a soft place in my heart for religious art. So this was a real treat.

We so enjoyed meeting the women at Epiphany Parish. They were so lovely and fun to hang out with for the time we were there. Many thanks to them for hosting this exhibit.