I was supposed to turn in my blocked out movement piece for the master class today.  This is as far as I got. I have had a really bad sinus headache for 3 days. I had a SAQA meeting yesterday morning. Today, we had to go to the title company and sign all the papers to sell our house. Then, we went to our realtor's office to discuss our options since there is nothing on the market for us right now. Tomorrow, we are going to look at a potential rental that we can rent for as little as 2 months. We have to  be out of here mid-April.
Here is how I attacked this layout. I printed a rasterized version on 15 sheets of paper and taped them together. Then I cut freezer paper patterns for all of the black pieces.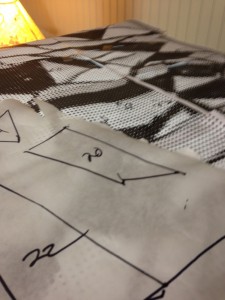 I fused all my fabrics while watching figure skating on tv. You can see Paige's quilt waiting for me to return to the quilting!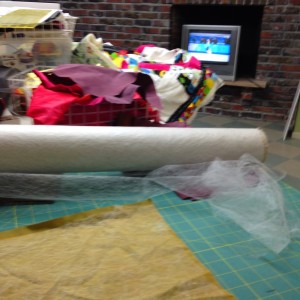 I laid a large teflon sheet over the pattern and ironed the black pieces in place. I am now adding the color pieces. Here is my palette.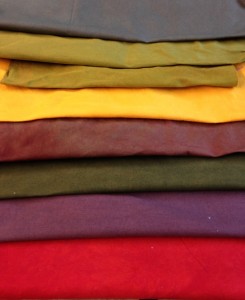 I checked the values because this is someting Elizabeth Barton drums into the heads of her students.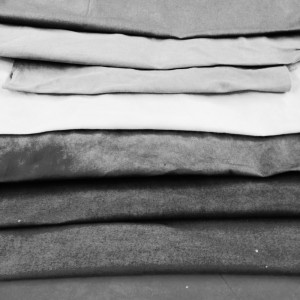 Unfortunately, I did not get as far along as I had hoped.
The highlight of my week was attending a screening of Tim's Vermeer. The Tim in this documentary is the husband of my good friend and co-curator of the Dinner at Eight exhibits at IQF, Leslie Tucker Jenison. He is an extraordinarily talented engineer. He read a book about Vermeer and the speculation of how he painted the photograph like images. He became obsessed (so to speak) with this and set out to duplicate the process. It was amazing to see how a non- artist, untrained oil painter ultimately painted a replica of a Vermeer painting. I highly recommend this movie. It was wonderful.