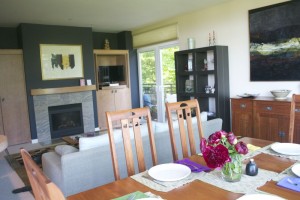 We had our first guests today. Stephanie, Jack and M & M came over a Mom's day meal prepared by Mr C. He grilled skewers of marinated meat and purchased salads and appetizers. I was not allowed to participate and he got mad when I changed the napkins on the table – couldn't help myself!! Stephanie made strawberry shortcake and made special gluten free biscuits for me. It was delish.
While we had the house looking spiffy, I took some photos. Above is the view towards the fireplace from the dining area. Below is the view in the other direction. I love all the windows in the dining area – this is where we get the view of Mt. St. Helens. (Click on photos to see them larger.)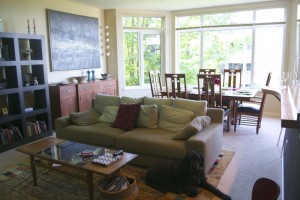 Here is the table set for dinner.
And Mr C, slaving in the kitchen. You can see that we live in a very compact area, but it works.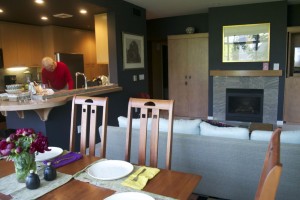 This is the room that I call the multi-purpose room.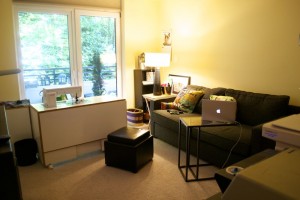 I have my Janome set up here, the sofa pulls out to a queen size bed. The TV is onthe left and on the right is a credenza with my printer, thermofax and old carbon based copier that I used to make the screens. There is a big closet to the left of the Janome that is holding a lot of my sewing stuff and current quilts. I have not hung any art in here. That is next on my to do list.
Here are two views of our deck.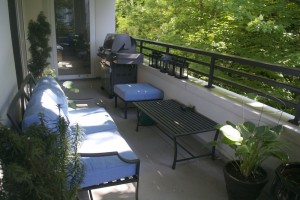 The door at the end of the deck is our bedroom.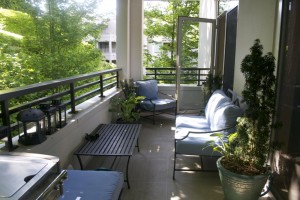 This is looking up our hallway towards the kitchen and living area with Lisa's painting of birches. We still have lots of room in the hallway, bedroom and entryway to hang more art – going to hang some quilts.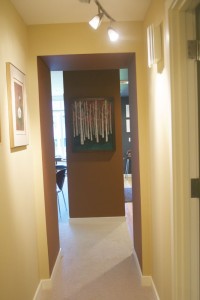 This little plaque is in the entry way. It has graced the entrance to every house we have ever lived in.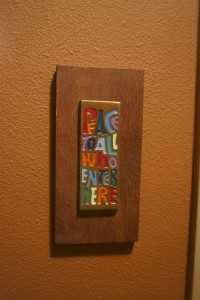 I made some progress on my studio. Mr C is going to hang some simple shelves on brackets for me. I need to make more floor room. I am anxious to get to work.