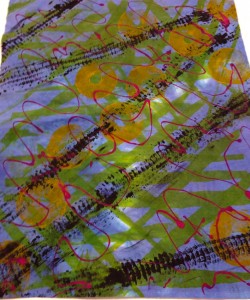 Whew, I am exhausted from my week of hosting Rayna and the two days of workshop. I totally crashed last night – I might as well have been in a coma. I took Rayna to the airport this morning and then we went to the farmer's market. I spent the afternoon dozing and working on SDA membership stuff.
I came away from the workshop with a few pretty good pieces. The piece up at the top was transformed from this. It was first printed with newspaper resist on a screen. Then I added yellow orange circles and some black marks made with a mesh type of ribbon. Finally, I used a syringe to add the squiggly lines.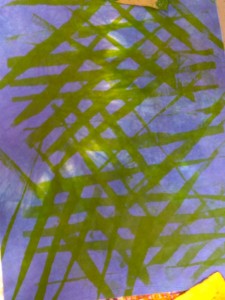 Here is a detail: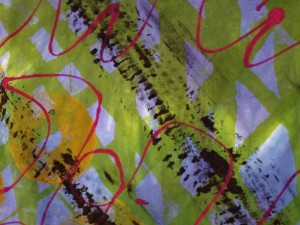 This was another silk scarf that had some very pale marks when I used an anemic black dye for printing. I used the newspaper resist screen and olive green ink followed by purple lines using one of my favorite Stencil Girl stencils.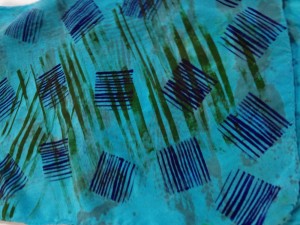 This piece was started with newspaper resist and then I used the school glue screen with mix of orange and yellow. The screen was starting to break down and I love how it turned out.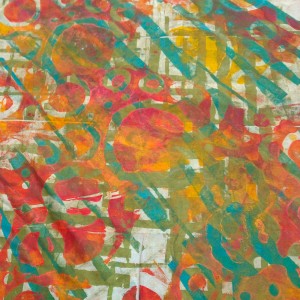 Here is a detail: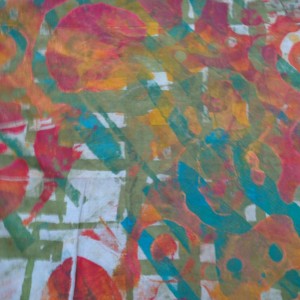 This next piece started as a piece of muslin that I was using for test prints.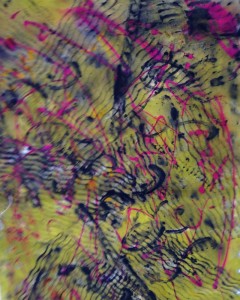 I kept printing on it and then painted the whole thing with Dynaflow chartreuse paint.
The next piece was something I  had in my stash. You can see the bottom section. I am not sure what I did to get those circles and marks. I printed over it with the glue resist screen of circles using purple paint. Not excited about it, but who knows what use I might find for it.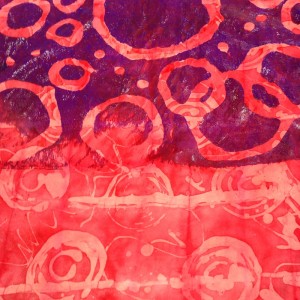 Lastly, here is my printing surface after a lot of printing. I always love how the printing surface is so spontaneous looking.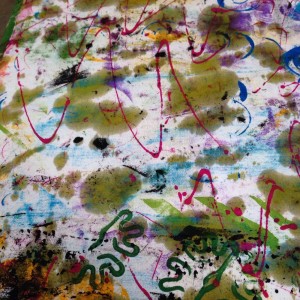 All in all, it was a great week. I am not looking forward to Monday. I am having 4 hours of dental work as they remove the disintegrating bridge from my upper right side. I will get a temporary put in and hope I don't have to wait to long for the final fix.