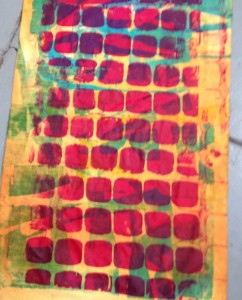 Rayna Gillman, long time internet friend, is here in Portland. She lectured at our guild meeting Wednesday and is teaching screen printing techniques today and tomorrow. She arrived on Monday night and so we had a fun day on Tuesday taking the street car downtown to shop and have lunch.
I was hoping that her workshop would get me back in the creative mood and it is working. That piece up there has a background done with torn masking tape and then construction fence resist over that. The yellow background is a hand dye. I am planning to do a black print on top of this, not sure what, yet.
This piece is the start of something. I used a newspaper resist to print these lines on a pale olive cotton.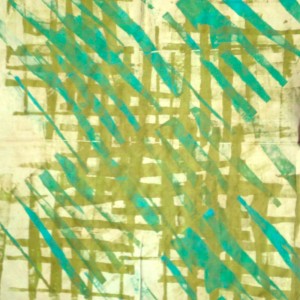 I took some unsuccessful silk scarves that I hope to rescue. Here is the first one.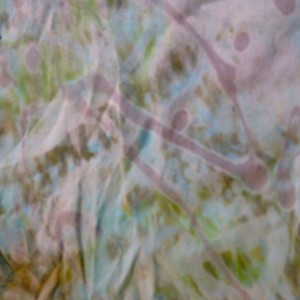 I used a turquoise printing ink and a squishy whisk. I think it has been transformed.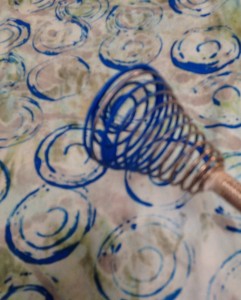 I prepared a screen with a washable school glue resist for using tomorrow.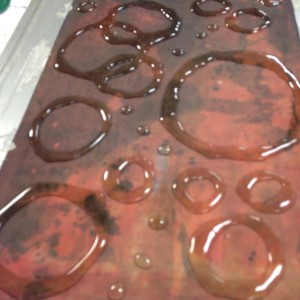 There are 22 people in the worship and they are all doing some fantastic work. I will try to get some photos tomorrow.
On Sunday, we celebrated our 50th anniversary at Trinity. Our friend, Heidi Rose, made 300 macarons and created a tower for the coffee hour after church.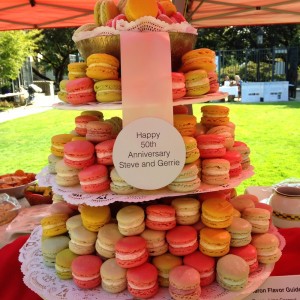 She put two of each flavor in a box for us to take home.
Today, Lisa sent me photos that were taken at our celebration in California. You have to love this one of little Miss Paige photo-bombing the family.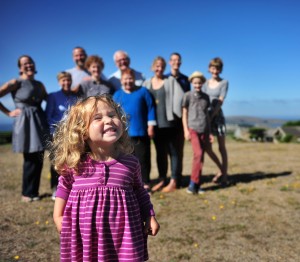 Lisa selected two photos of the whole family: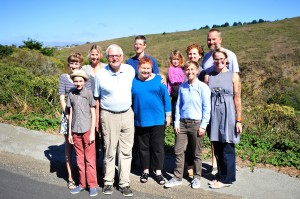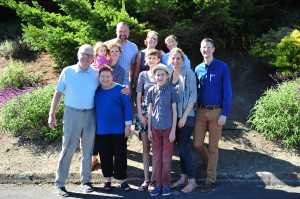 I really love this one of Mr C and I.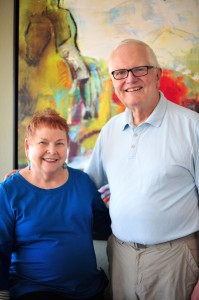 So that is a little bit of what has been happening in my life. It has been especially fun to hang out with Rayna. Tonight we went out for sushi and ice cream.