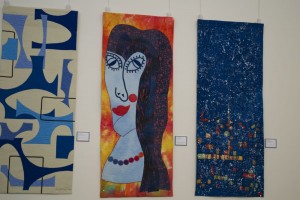 Today, a few of us who have art quilts hanging at the Portland Airport, Concourse B, were escorted through a side door to view the exhibit. I must say that having the quilts all the same size made a big impact as you come upon it.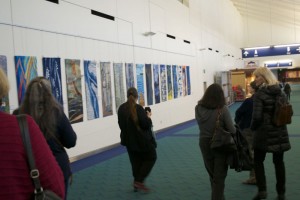 Here I am standing next to Blue Picasso Woman to give you an idea of the size.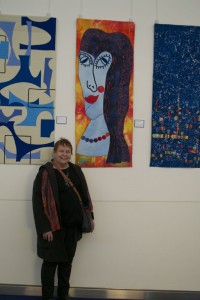 Here is a view looking at the quilts from the other end.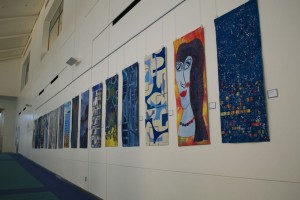 Here are some of my favorite quilts.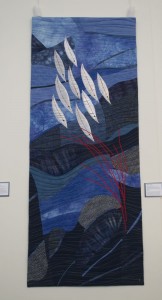 This is by Carol Heist, titled Schooling Around. The bit of red she used is a wonderful accent and she has a wonderful s curve going on in the overall design. She has a talent for incorporating unusual fabrics.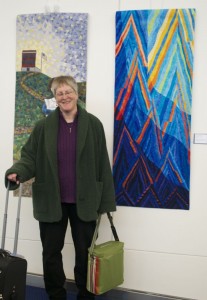 This is Kimberly Connelly with her piece. I always love blues and oranges together. This has a pleasing design and great use of value as an important design element. Kimberly was on her way to Palm Springs and just happened to show up when we were there!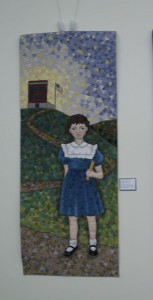 This is Terry Grant's quilt titled First Day of School based on a memory of a new blue dress for the first day. So charming and evoking of a memory many of us have.
Across the hall from our exhibit are a group of art quilts representing Portland Bridges made by the Modern Quilt Guild.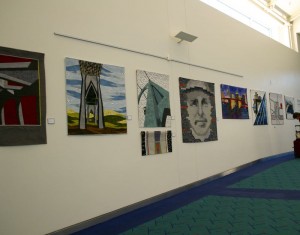 This was one of my favorites.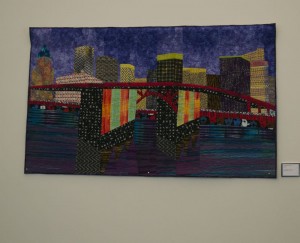 So, there you have it. A report from my fun field trip for the day.