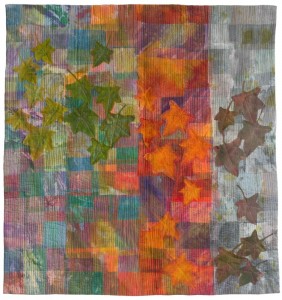 Today, I did something I have not done before, I had two quilts professionally photographed. All I can say is, I should have done it long ago. My problem is, I rarely have work done early enough to get it photographed before I need to enter it so I had my own set up. Now, I don't have the space to do it myself so I am going to have to get my act together. Here are detail shots of Taking Leaf of My Seasons.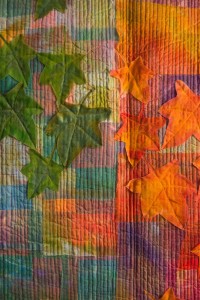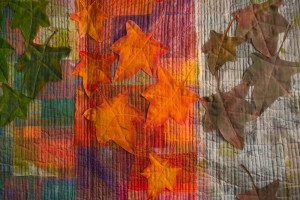 Looks so good. Here is Flying Through Sky Blue Pink.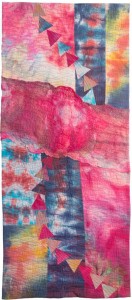 Details: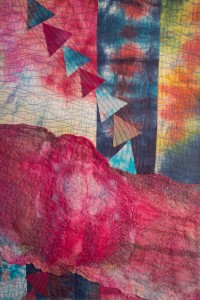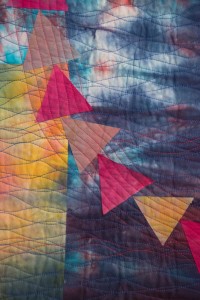 A better camera and knowing how to set it makes a big difference. I get it now.
I have been incredibly busy. SDA is having an important and huge fundraiser. The organization may have to disband if we don't get an infusion of cash by the end of the year. It has added a great deal to my work load. If you read this blog and are an SDA member, I would appreciate it if you could make a pledge. The money does not have to be paid until next hear and can be spread out in payments. Click here to check it out.
Then, to add to the craziness – it is December! Managed to get cards out, finished shopping, shipped some packages, attended to Christmas concerts and several holiday festivities. And this lovely girl turned 15, yesterday. We met the family for Thai street food, one of Mia's favorites, followed by cheesecake back at their house.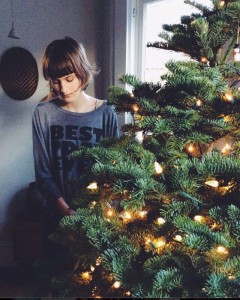 At Miles' school they get to chose a short class for the last week before they are off for the holidays. He chose metal working and one of the things he has made is this unicorn. Isn't it fantastic?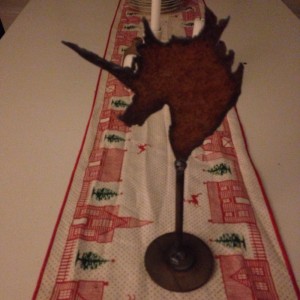 So, today, I finally had some breathing room and did some more sewing on the two kid quilts which are not going to get done by Christmas. Tomorrow, I am getting a much needed haircut and hope to work on the kid quilts.
The Barnes family is coming over for Christmas eve; I am keeping it simple – fresh dungeness crab, salad, sourdough bread, Christmas cookies and homemade peppermint candy ice cream. On Christmas morning, we are heading to California to see the rest of the family. I love this photo that Jayme's mom e-mailed me.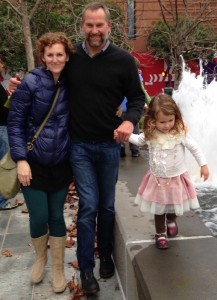 There is a new store down on NW 23rd called Arcteryx. They sell high end outdoor wear. We were in there with Scooter and they took his photo for their Instagram site, Barcteryx. He was the first dog photographed. Now, when we go in, they say "It's Scooter!"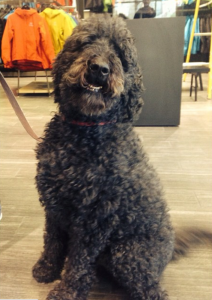 I hope to be back in the next week, really!