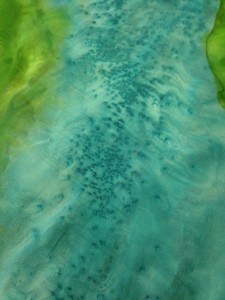 Someone asked about the salt on the painted fabric. Here is the fabric after I removed the salt. I think what it does is attract paint to the area causing little dots and ripples. I wanted this area to look water-like. Mission accomplished.
I ironed and heat set the green piece and am quite happy with the results. Here is the small sample I did. You can see how the paint flows through to the other side so you can easily paint two pieces of fabric at one time.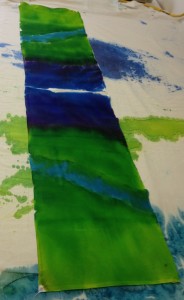 I thought I would show you my set up for painting in my small studio space.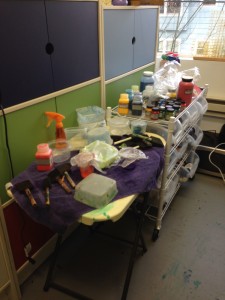 On the right is my paint caddy. On the left is a small table with my brushes and containers. There is just about enough room for me to stand between them and the surface holding the fabric, but it works and I am so enjoying the process.
Today was red day, but I wanted to incorporate some of my happy colors with the red.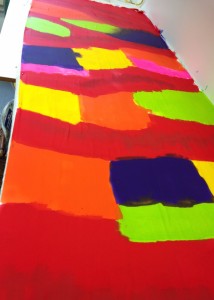 The edges soften and blend as the paint dries and then I will be adding some printing and gold foil to this. It was a dark, dreary, rainy day today and it was so nice to paint with these colors.
Remember my carved block from my reduction printing class? Last night I inked the back with lime green and printed a nice rectangle.
Then, I flipped it over and inked the carved side with red.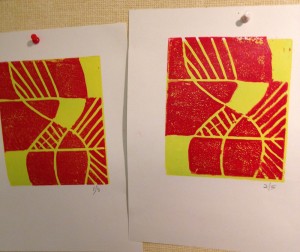 I am now carving marks on the block where you see the solid red. Then, next week, I will print in another color, etc.
Comments on my 10th blogiversary post are still dribbling in so I think I will wait until Monday to select the winner. I appreciate all your comments.