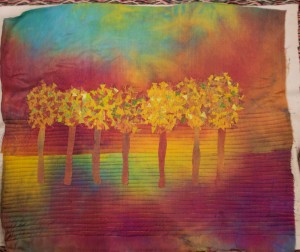 Just a quick check in. I want to thank every one for your kind words regarding my post yesterday. I have had a relatively good day, despite the sun still hiding. I rode the exercycle for 20 minutes and then put on my brace and did some work around the house.
We took Scooter for a pretty good walk while I was in the brace and the sun almost tried to break through. At least, it stopped raining.
I got the lost edges quilt sandwiched. Here is the backing.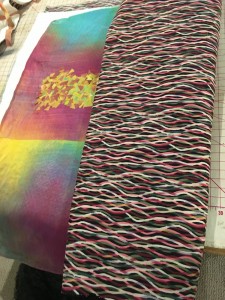 I am not thrilled with the quilting of the leaf areas. Not quite sure of the best technique except to do free motion scribbling!! I am doing straight line quilting on the background and did not want to add the tree trunks until the background quilting was done. I used a variegated thread that has all the colors so it contributes to the lost edges as it blends into the background. So I have added the trunks and some leaves over the tops of the trunk. So a good start.