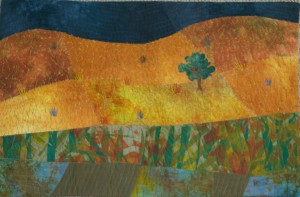 When I took this quilt (without the tree) to my critique session last fall, the critic said it was not finished, it needed something else. I had always thought about putting a California Oak on it because you often see a lone Oak on the golden hills. I thought it might be too realistic for the overall tone of the quilt. But, today I did it. And, I am still not sure, but I sure love the tree.
I took off for the studio this morning to get this done. I cut a trunk.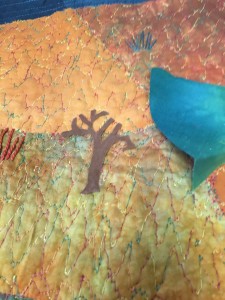 I auditioned some green fabrics and ended up using this batik. I think it worked well.
I fused the tree together on a teflon sheet.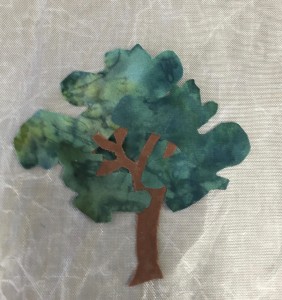 Then, I auditioned it in different spots on the landscape and fused it down.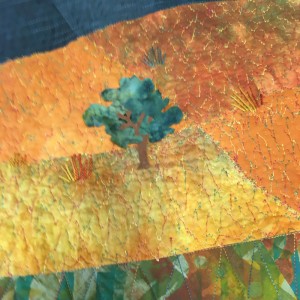 I took it home and quilted it.
I also finished this little quilt. I scattered a few more leaves on it before I added the facing.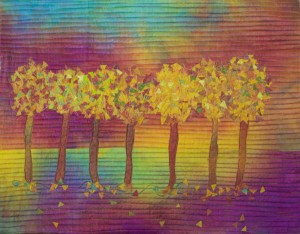 Tonight, we took the street car down to the Pearl to the opening of an art exhibit that 3 friends are in. I also retrieved my Blue Picasso Woman and brought it home. It has been traveling for a year and a half.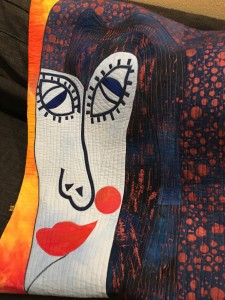 I took all 3 of these quilts to Kristin LaFlamme who is taking them to Seattle with her tomorrow to be photographed by Mark Frey, who is a great photographer of textiles and art objects. Kristin has a 3-D piece that needs to be photographed for a catalog for a SAQA exhibit at the Textile Museum, Migration Stories. Here she is photographing it in our condo hallway for a video she plans to make of it in various sites.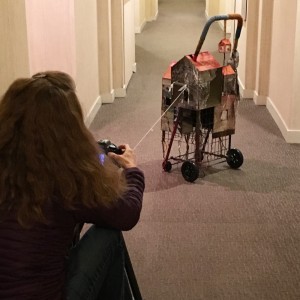 And so, I am feeling pretty good tonight. Got a lot accomplished. Tomorrow, I start an online dyeing class with Elizabeth Barton. While I was at the studio, I checked on my supplies. In this workshop she promises:
If you've never dyed before, this is the class to take. If you have taken a class but ended up feeling confused about the whole process, this is the class to take. If you have taken a class, and felt like it was all too much work, this is the class to take! If you have taken a class and had wimpy or muddy results, this is the class to take! If you have read about a class where you had to dye thousands of little square samples before you could even think about what you needed to make that quilt you have in mind, this is the class to take! If you want to be able to dye a reasonable approximation of any color you see anywhere, this is the class to take! In five lessons, I explain the process of hand dyeing in simple, safe, clear, easy to remember terms. We make enough dye concentrate in the first class to last us through the whole course – and beyond! You really don't need to be mixing up dye every single time! There are only a few key factors to successful dyeing and I'll explain them very clearly, so failure just simply is not an option! We will cover: dye mixing, gradation dyeing, pure versus mixed colors, how to derive your own recipes, how to dye neutrals and why you need them and the benefits of overdyeing. In the last class, working from a color inspiration source, we dye the fabric for your next quilt!