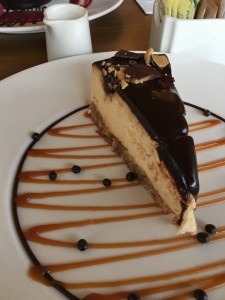 It has been a pretty good day despite the gloom hanging over Portland. I had lunch with Amy Frazer, who I met through SDA. She used to work in the sock division of Nike and traveled a lot meeting with athletes regarding their sock needs, I guess. She was doing fiber art work, mainly embroidery, on the side. Now, she no longer works for Nike and is pursuing a more artistic life.
Here we are enjoying our decadent desserts at Papa Haydn's, known for their desserts. That is my cheesecake with a toffee crust (so good). She had the Buche de Noel. We both took half home to our significant others.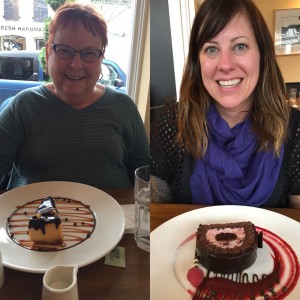 I wore my bionic brace for more than four hours today. I find that if I wear it during my most active time, it saves my knee from getting enraged and screaming at me.
Tonight, we toodled over the hill to Kristin La Flamme's home and had some munchies and then went to hear her daughter, Katja, play bass with the Wilson High School Jazz band. Such fun and good memories for me of the days when I was a band, orchestra and choir member in high school. Plus, I adopted Kristin several years ago as my art quilt daughter, so Katja is sort of my grandchild!!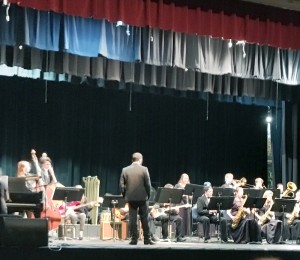 The other good thing is that I got to miss the republican debate!!
So, it has been a good day.