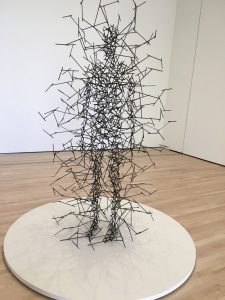 One thing I really wanted to do while we were in California was to visit the renovated SFMOMA. It was closed for a long time as they expanded their exhibition space. Mr C used to say the SFMOMA was great architecture and bad art. The main problem was the lack of exhibition space. Well, that has been remedied. It is 5 floors of wondrous art. I had to stop and sit quite often as my stamina was minimal, but I kept going, feeling enriched by the creativity around me. By evening, I could barely get to my hotel room to crash!
We started on the fifth floor with an exhibition of outdoor sculpture. The wire man up there was quite delightful. This work was by an Englishman who created sculptures from natural materials on his solo treks around the world.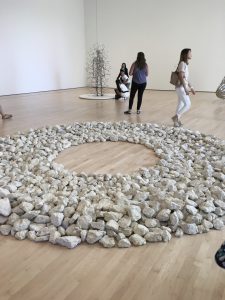 Next was this wall covering created by Jongstra, a Dutch fiber artist. She used raw and crafted felt, hand-spun silk, and dried flora. It was huge and in a hallway and difficult to photograph.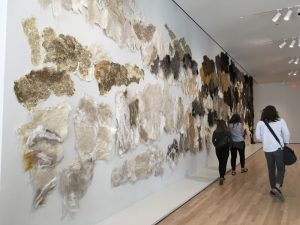 In another gallery, we saw these pieces by Andy Warhol and Chuck Close.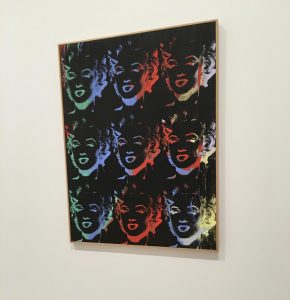 This was a different version of his Marilyn work – Reverse Marilyns.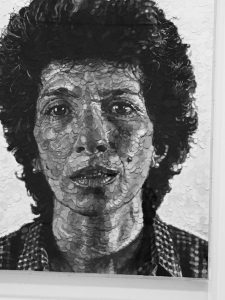 Chuck Close created this portrait using circles in various shades of gray to black. Mesmerizing to look at.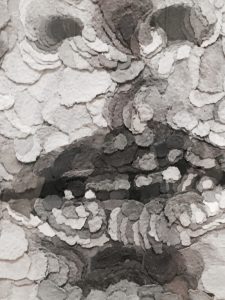 I loved this piece by Frank Stella, so different from his other work, below.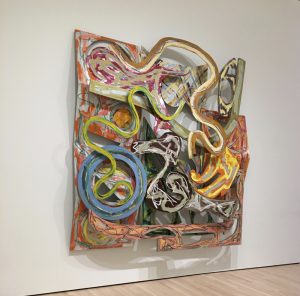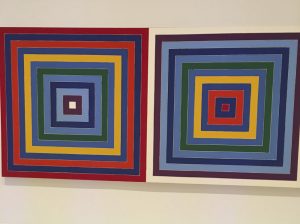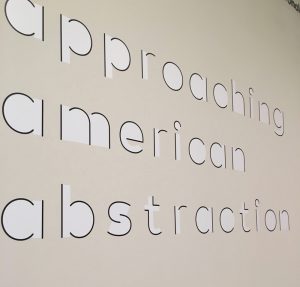 So, I could not wait to get into this gallery! These pieces were in one room.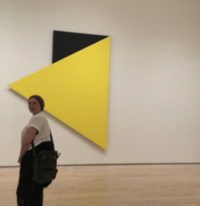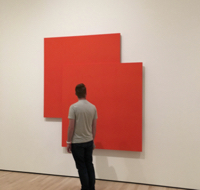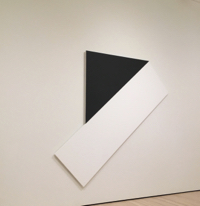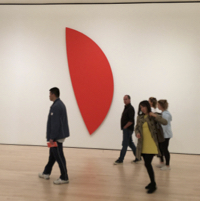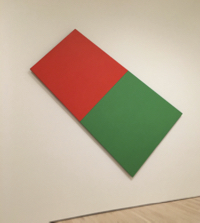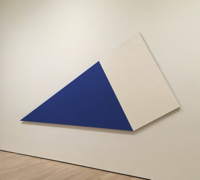 This very abstracted work always looks so simple, but believe me, it is not easy to do. Wish I had the ability.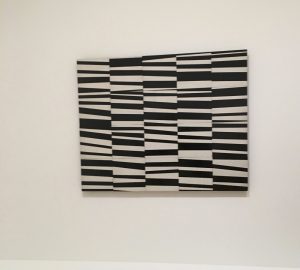 These are two pieces by Ellsworth Kelly that could be art quilts – actually, I think I have seen them made into quilts – don't you agree.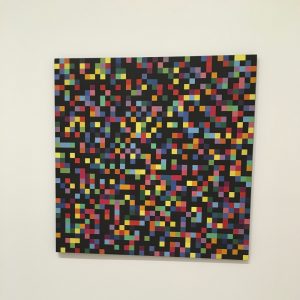 I will continue this on another day. I need to get my beauty sleep. I am taking a Radical Embroidery workshop at Oregon College of Art and Craft for the next 3 days. This has been my week to enter back into my Portland life. It has been great, but very tiring. I seem to be better each day. In San Francisco, we stayed at the Sofitel in Redwood City. It was really lovely. This was the view from our room. I enjoyed living in the lap of luxury for a few days.