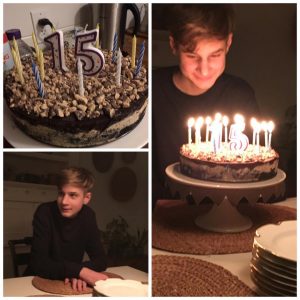 It is sometimes hard for me to get out of bed, get dressed and put on a happy face. I am still grieving the current political situation. I don't see much ahead for so many folks in this country but doom and gloom. But, we have to carry on, don't we.
For my long time readers, you may find this hard to believe, but that is my grandson, Miles, who turned 15 on Sunday. He has grown into such a fine and brainy young man. He is getting straight A's in highschool. We all got together for dinner at a ramen restaurant and then that delicious mud pie, made by his Mom.
Before that, Mr C and I headed down to Oregon Wine Country for a benefit for Quilts for Empowerment to help Kenyan women who are getting their lives back together after surgery for fistula, a complication of child birth. You may remember that I took some of their embroideries and made quilts which were in a silent auction.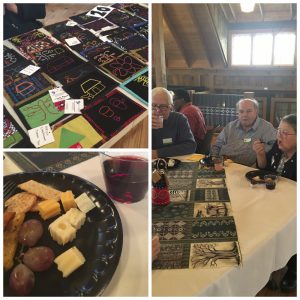 I finally finished my jellyfish stitching for my SAQA trunk show entry.
I also finished the one that I did in the wrong orientation.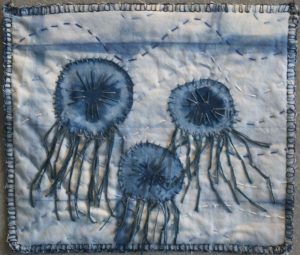 I am feeling ready to dig in at the studio and to make some quilts to send out in the world. High Fiber Diet has a theme called, Heat Wave. The main color is to be orange. I pulled some fabrics today and I have an idea. I am almost excited about it, but have a little fear and trepidation as it has been a while since I have done a large piece for a show.
I did some major food shopping and tomorrow, I will get some pies and cranberry chutney made for dinner at Steph's on Thursday. I am also doing the turkey. I keep thinking it is the last year for me to do the big bird, but no one wants to take it on!!
So, we keep on keeping on and wait to see what happens.