Here is one of my construction pieces. It has been bothering me. I used some of my art cloth. I love each of these pieces, but I think that I saw these fabrics as too dear and ended up with a piece that does not have enough value change and no focal point.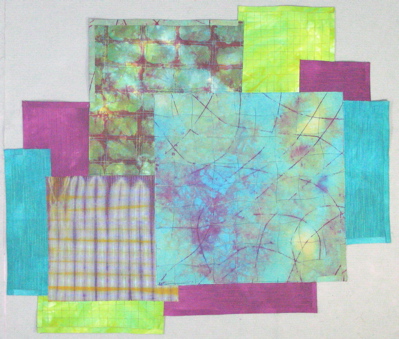 So, I rotated it and added a new piece of green at the top. This will make it easier to hang and gives it some balance.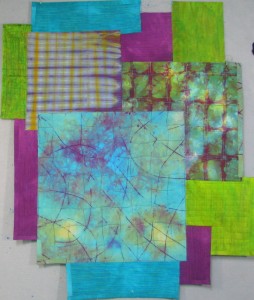 I also painted the green sections to darken them and give them more character.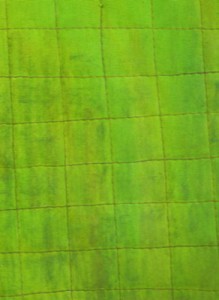 Remember the construction fence on the black fabric in my last post. It has been cut out and applied to this piece. Here is a sneak peak. I am having fits trying to stitch it down. I finally decided to do a wonky zigzag stitch. I am not ready to show the whole piece yet, but I am pretty happy about what has happened. You still see the gorgeous background fabric, but the construction fence gives it some weight and a focal point – sort of ties things together.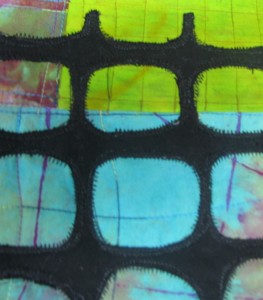 An update on the other construction around here — the bathroom. The new plumbing and electrical work was completed last week and early this week. New insulation was put in the ceiling area, and we passed the inspection by the city. This afternoon the drywall arrived and is partially installed. That will be finished tomorrow. The special tile mosaic is done and ready for installation. We are raising the ceiling in the guest room shower and putting in a new shower head. That is in the middle of being done so we have no showers on the main floor. Fortunately, we have a shower in the basement so I guess I will be schlepping down there in the morning.