Today, instead of doing devore, I opted for deconstructed screen printing. I have found  a new love. This is right down my alley and so addictive.
Here are some photos of work from today. I steamed and washed the work that I discharged yesterday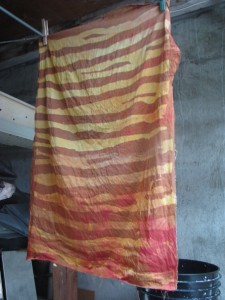 This piece is better than I had imagined. I am loving all the layers that I have produced.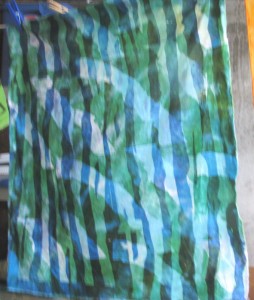 Today, I brought in two silk scarves which I had dyed some time ago. They were a very rich reddish orange. I felt that they needed some additional design elements. I cut out circles from freezer paper in various sizes and ironed them to a screen. I then discharged the scarves. Here are the final results after steaming and washing.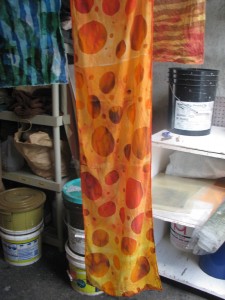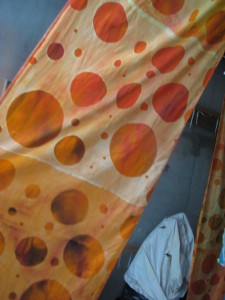 The first step of creating a screen for deconstructed printing is painting the bottom of the screen with plain dye, mixed with water — no soda ash or paste.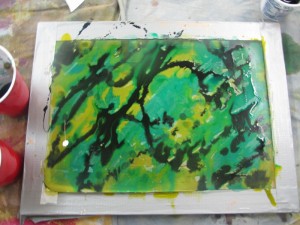 I decided to use the freezer paper moon screen one more time. You can see both sides of the dye painted screen.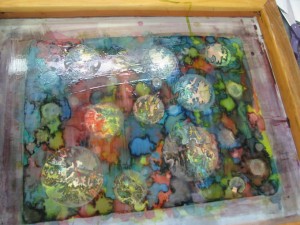 Here is my first, not so successful, print. I discovered, too late, that you need to paint some print paste on the screen and let it sit for a few minutes to soften the dye. This is a print on silk organza. There is some very salvagable fabric here.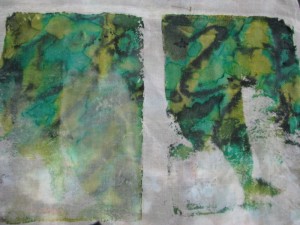 Here are the deconstructed moons, printed on some hand-dyed fabric.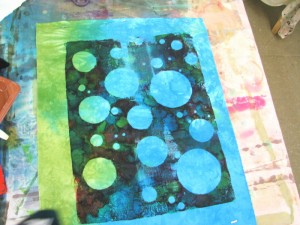 That is all I have photos of tonight. I just slept through most of a movie so I am going to toddle off to bed.