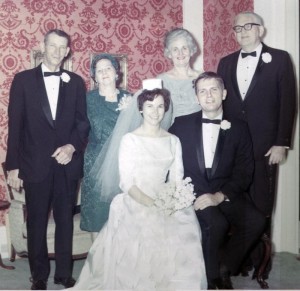 My parents — Jake and Rachel — are on the left. Mr C's — Ruth and Paul — are on the right. I was struck by how much I look like my father in this photo. Thankfully, I didn't get his ears. Mr C is still the spitting image of his Mom.
I wasted a lot of time this morning looking for our wedding album to scan a photo. I cannot find it anywhere. I finally found this one in a frame down here in the basement. It was quite faded, but Photoshop does wonders.
Tonight we will go out to dinner with M & M, who are spending the week-end with us. We will officially celebrate in Chicago next Thursday. We are going to spend an afternoon and evening there and then head to Ft. Wayne, IN for Mr C's 50th high school reunion.
On the studio front, I am working on the next 12 X 12 challenge, shelter. Since I am doing something more realistic, rather than abstract, it requires some Photoshop and design work. I just want to start cutting fabric!!