Yesterday was a wonderful day. Our new little crit group met for the first time: June, Terry, Kim (a new friend!) and I met at Terry's house for two hours and then went out to lunch. June very expertly got us on the right track and it was an amazing experience. We spun the bottle to see who would go first and I won!! I brought my Mallory Brook: Ripples and Reflections, which is a very personal piece. I could not say anything until they had finished the critique. (Someday, I will post more about our process.) It was mind blowing to hear people talk about your work and what they saw without any of your own input or bias. Here is the piece: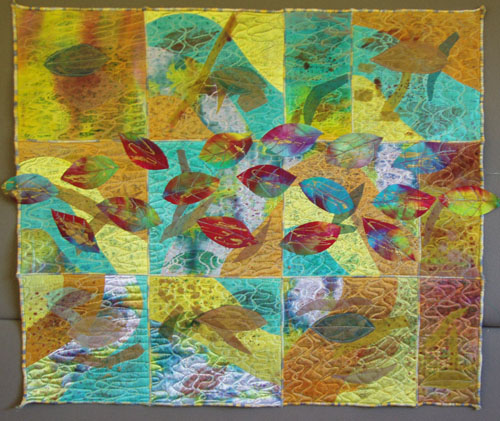 What do you think of it, like this?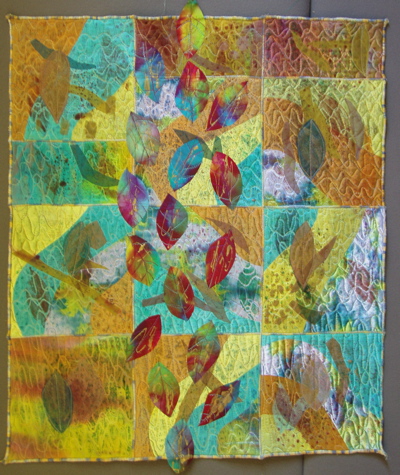 My critiquers felt that it had better balance of the brown areas. What do you think?
Today, I have really been busy in the studio.
I sorted batting. I now have a piles for post cards, small quilts, large quilts and full pieces yet to be cut. I had more batting that I realized. It is nice to have it contained.
Here is Maggie guarding my empty plastic bins: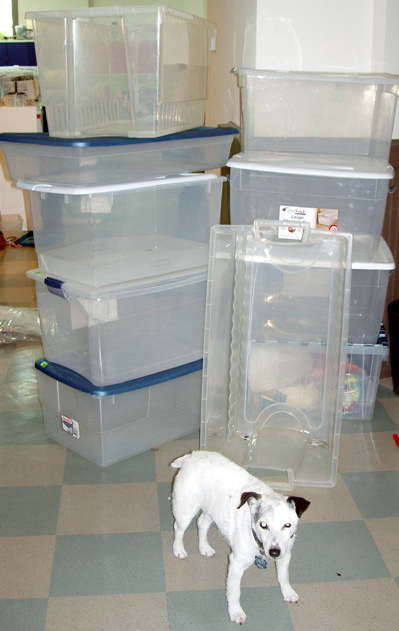 It is so nice to have stuff out of bins and organized so that I know where it is. Yesterday, Mr C picked up some foam insulation for the design wall which will run the width of one wall. Whoopee! Can't wait. I have to go out and buy some felt to cover it.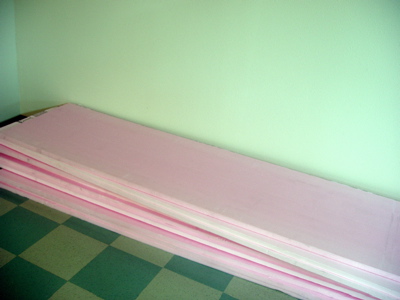 And here is one end of the studio: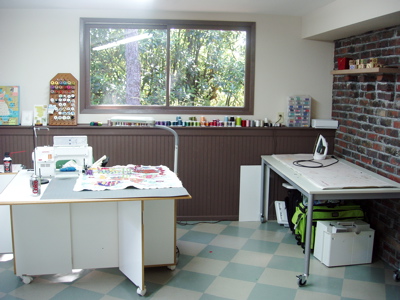 The wainscot has a little shelf at the top and so I have organized all my quilting thread. Isn't it cool? You can see the reflection of one of my full spectrum florescent lights in the window.
This morning we took a long hike around Reed College Campus. They have a very woodsy area with a trail that is called the Reed Canyon. It has a small lake at the base. Tomorrow, we are going out to the Columbia Gorge for a picnic and hike. I am here in Portland and childless for mother's day. Steph and her family have gone yurt camping at the beach. I must admit that when she first told me she would not be here, I had a little twinge of sadness. But I got over it. When we lived in Santa Rosa, Mark and Lisa usually came up to spend the day with me and so I was looking forward to a day with Steph. I hope they are having a fantastic time at the beach – the weather is glorious here in Portland. For many years, Mr. C was usually in Tokyo in May for some annual conference, and so if I wanted to do something special for Mother's day, I had to organize it myself!
I always think a lot about my mother at this time. I was the oldest of five children and I know how hard she worked to give us a loving home and the necessities of life. After I graduated from college and was earning a good living, I used to so much enjoy indulging my mother with nice gifts for mother's day and her birthday. I bought her furniture, dinnerware and nice clothes. She has been gone for more than 20 years. She was my age when she died in an automobile accident. Sometimes, I really wish that she could see what I have done with my life and to see what wonderful human beings, my children have become. And she would just adore M & M. She loved the little ones so much.
Happy Mom's Day to all the moms and all those who have moms!!