It's over. The worship quilt, fittingly named "Veni Sancte Spiritus" (Come Holy Spirit) is winging its way to Mobile, Alabama. Mr. C describes it this way: the rainbow background represents God's Creation and the crosses in many colors represent the diversity of God's people who inhabit the earth.
It should arrive on Monday. Needless to say, I am very nervous. I hope it lives up to all the hype and works to the Glory of God in its new space. I hope they will send me photos of it hanging there. In the meantime, here is a photo and close-up that I took this morning: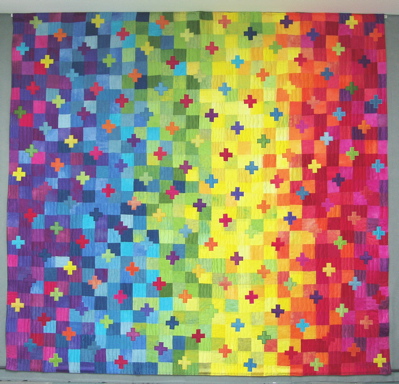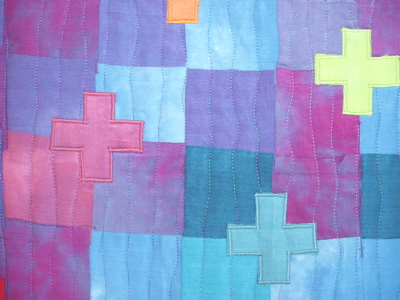 You can see some photos that Steph took here.
I feel somewhat lost and at loose ends. I am having empty nest syndrome!! I have some cleaning up to do, for sure. This week-end is the BIG Eastmoreland annual garage sale. We are going to participate in that on Saturday. I need to get to work on my correspondence course with Jane Dunnewold. That will surely be fun and creative.
Last night when we were walking about the neighborhood, we stopped to introduce ourselves to some new folks from California. They also have a mid-century brick ranch. Well, it turns out that they publish this magazine which I have seen before: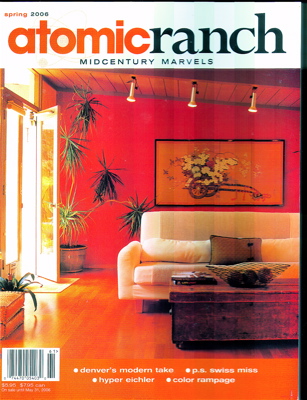 So they are going to come by and check out our house. They are working on theirs and plan to photograph it for the magazine and a book that they are publishing on mid-century design. Before this they lived in a bungalow in Pasadena.
Well, I am off to think about what to put out for the garage sale and what to charge. Steph, the garage sale queen, is coming over tomorrow to help us. I promised her a fabulous gourmet dinner in return.