Yesterday, Terry, June and I made our way to Tacoma on the train. The time flew as we caught up with our various activities since we were last together. Terry had been to the Virgin Islands for two weeks. June was Artist in Residence at the John Day Fossil Beds in Eastern Oregon or as Terry says, she was fossil in residence.
Once in Tacoma, Terry's friend, Carla, picked us up and gave us a driving tour of Tacoma and to a great place for lunch where I feasted on one of my favorite fall delights ?¢'Ǩ'Äù pumpkin ravioli's with sage butter sauce and Parmesan cheese – oh yum!
The it was off to the American Art Company to see the invitational fiber show. I love to see fiber art hanging in a gallery. The owners said that they had gotten a very positive response to the show and several pieces have been sold. I will point yo to June's review when it gets posted for more of our comments on the show.
Here are some pics of the show: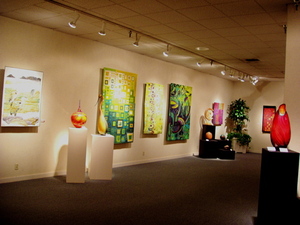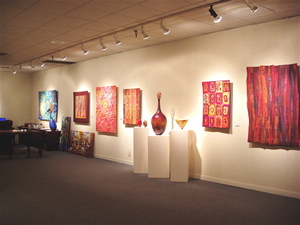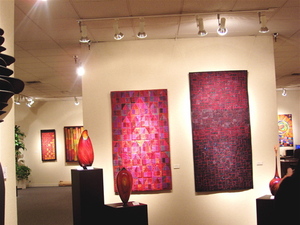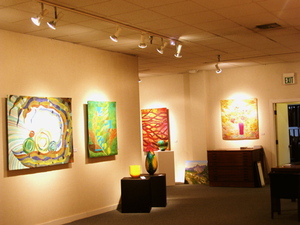 Most of the quilts are hung a couple of inches away from the wall, suspended from fishing line, which I thought was very effective.
We next went to the Tacoma Art Museum where we saw The Art of Eric Carle, the children's book author who does tissue paper collages for such books as The Very Hungry Caterpillar. We also saw an amazing exhibit by mixed media (but a lot of fiber) by this amazing woman: Aminah Brenda Lynn Robinson. Here is another link. She has created over 20,000 works of art in her lifetime.
Today, Lisa and I are going on some adventures. We are going to visit the Fiber Arts district of Portland. The stores there are Fabric in the City, Josephine's Dry Goods, The Playful Needle, The Button Emporium and Ribbonry and Let It Bead.
I am off to walk the dog and then on to the adventure.