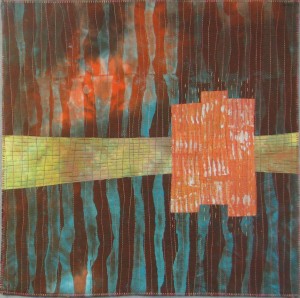 Sunset Composition arrived home from Kansas City where it was part of the SDA Member's Show. I had forgotten about it. I am excited because it is a piece that I can enter in PAQA South's Illumination show. Do you think it will fit the theme?
I also received the DVD's of the conference and technique sharing. Because of my schedule, I missed some of the talks so will enjoy watching these.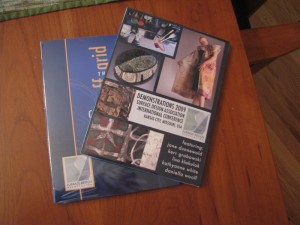 And, I also received this wonderful piece of jewelry from Broken Plate Pendant Company. The wonderful artist and friend of our family, Diana Fayt, had these wonderful pendants made from shards of a broken pot. If you click on the link, you will see the pot before it broke and read about the good cause that it supports. I love it.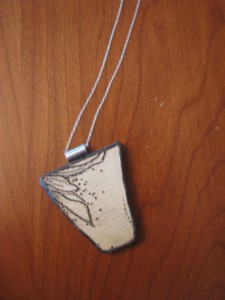 Today, I decided to clean and organize the laundry room/mud room/dog feeding room/put it here if you don't know where it belongs room. I purged, found lost things and reorganized. It took me all day because I took lots of breaks to walk the dog, eat lunch and think about things.
We are having the big family get-together in mid September so I am trying to keep on top of things. I think the caterers may want to use that room for some staging. Speaking of which, I finalized the menu —
Bruschetta – topped with house made mozzarella & three pestos – classic basil, oven-dried tomato and kalamata olive.
Chicken Roma – breast of chicken wrapped with proscuitto di Parma and sage leaves.  Brushed with extra virgin-olive oil and hardwood grilled.
Organic Field Greens – with Mountain gorgonzola, pears and Oregon hazelnuts in a balsamic vinaigrette.
Orchid Noodle Salad – snow peas, red peppers and carrots tossed in a soy-balsamic vinaigrette with linguine.
Rice Pilaf – a savory blend of wild rices, mushrooms and spices.
Wood-oven Roasted Vegetables – fresh seasonal vegetables roasted with extra virgin olive oil
Whole Grilled Salmon – marinated in asian plum sauce or lemon and herbs, wrapped with banana leaves and finished on the hardwood grill. Served with a Thai basil dipping sauce.
Braised Short Ribs – boneless beef short ribs braised with red wine and aromatics.
Freshly baked Grand Central breads – Served with Smoked Garlic butter
Cassata – kahlua soaked sponge cake with a sweetened ricotta and chopped chocolate filling. Garnished with Chantilly cream.
Boccone Dolce – swiss meringues drizzled with semisweet chocolate and layered with whipped cream and fresh fruit. A classic northern Italian dessert.
Cheesecakes – classic New York style poached cheesecake made with cream cheese and sour cream. Ask about our seasonal varieties.
Caramel Nut Tart – walnut shortbread crust filled with caramel, walnuts and pecans. Finished with rich chocolate ganache.
Papa Haydn, known for their desserts, is doing the catering so a plethora of goodies is included. The Cassata is a cake, the others are miniatures.
We watched The Reader tonight — fabulous movie. I am tired. G' night.