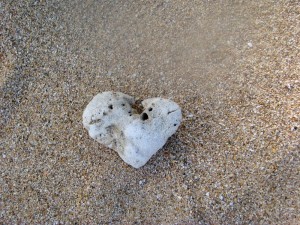 Mahalo is a word you hear often in Hawaii. It means thanks, gratitude, admiration, praise, esteem, regards, respects. I am thankful and full of gratitude for this wonderful time with Mr C in this beautiful place. I didn't realize how much I needed or would appreciate this time away from my normal life.
I have my computer with me because I have a job that requires that I keep in touch and be available to send bulk e-mails for the SDA reps, but I have really tried to keep my online time to a minimum. I am reading a very huge tome. I am spending quality time with Mr C and I am even doing a bit of stitching on my circle quilt – it is really sloooow cloth!
Yesterday, we visited the Lumahai Botanical Gardens. It was not peak bloom time, but we learned a lot about native plants and plants that have become a problem in the forests. I loved the colors of this Hibiscus.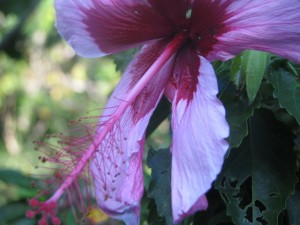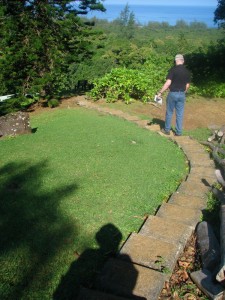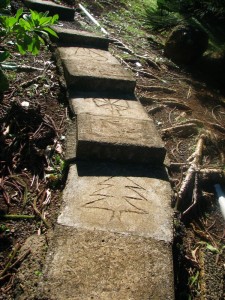 When we got back to the cottage, Mr C went to rent snorkel gear and was told the water was too rough, and they would not rent to him. A really nice guy on the beach lent him his gear, and so the birthday boy got in a little snorkeling. Does that look too rough?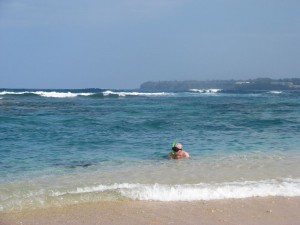 Then, he went on a hunt for the bananas that grow on the property. We found 3 different trees. They have a very interesting flower that hangs down from the banana cluster.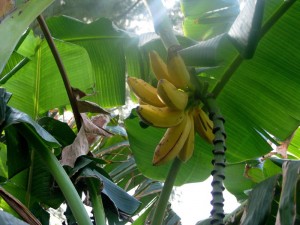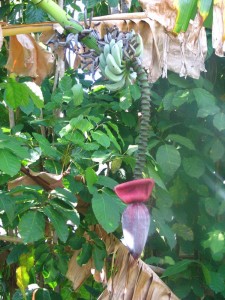 We went out to dinner for Mr C's birthday, but were not impressed with the meal. We decided that from now on we will eat lunch out and dinner at home.
Today, we stopped at the Hanalei farmer's market. I bought papaya, avocado and organic greens for a salad.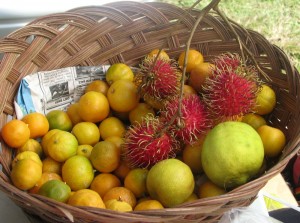 We headed for the Kilauea light house and wildlife refuge. We stopped for lunch and had fish tacos with a pineapple salsa – yummy.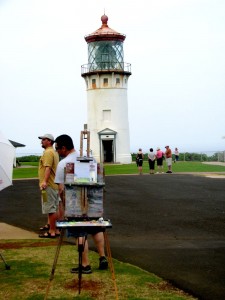 I love this photo of a painting of the lighthouse in progress. We saw a lot of red footed boobys. They nest on a huge cliff that can be seen from the lighthouse.
I am going back to stitching for a bit before I crash for the night. There are lots more photos on my Flickr site.