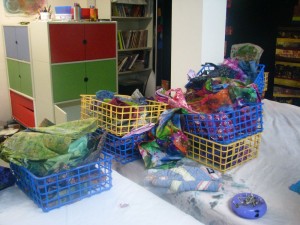 This is my batik stash which I have sorted by colors in these baskets. They are stacked in the IKEA cabinets in the background. I love batiks, and they are about the only commercial fabrics that I buy any more. Now, I hardly ever use any fabrics but those that I create.
I am doing a 15 X 15 inch piece for the Quilt Art list 15th anniversary. I came up with an idea and decided to get into my batik stash. I selected 15 different colors to make up a rainbow.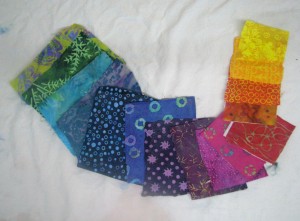 I have 15 hands in descending sizes drawn on freezer paper that will become part of the design.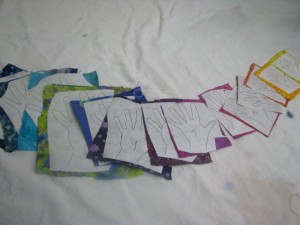 I am taking these to San Francisco with me and will do the fussy cutting while I am lounging in the hotel with my buddy, Liz Berg. I will have dinner with my SF kids tomorrow night and then the conference. On Monday, I will spend the day with Lisa. I have never seen her studio.
I will be checking in with photos and postings of all the fun.