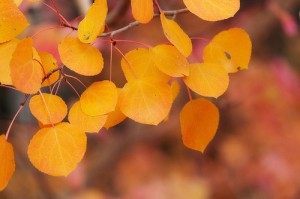 Here is a photo of a branch of aspen leaves. I love their gracefulness. I decided that I wanted to make my leaves go off the edges which meant either cropping in on the sides or making more leaves. I am done making leaves. I will need to dye more fabric to make more leaves.
I took a deep breath and trimmed the aspen quilt to the final dimensions which is about 43 X 54 inches.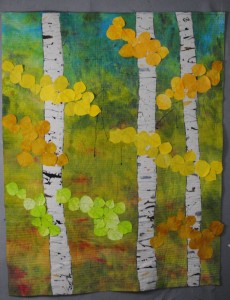 Adding more leaves let me keep that lovely red area in the lower left corner. I still need to add the facing and the stitch on the leaves that fall off the edges.
Tomorrow, I am going to see the Bird's Eye View show at the Camus Library. Reva, Gale and I have not had a chance to see it yet. Then I need to pack up for 3 days in Eugene where I am taking a class from Jason Pollen, Professor and Chair of the Fiber department at the Kansas City Art Institute and past president of the SDA Board. The class is titled Igniting the Creative Spark.
I just checked my supply list. I think I need to make a little shopping trip tomorrow.