Yesterday, I went over to Washington State to the Camas library to see the Bird's Eye View Show that is hanging there for the month of May in  The Upstairs Gallery. That is my Prairie Fields which you see as you get off the elevator.
It is a nice space with nice natural light. Camas is a quaint town with a paper mill smell. The library is very nice and state of the art.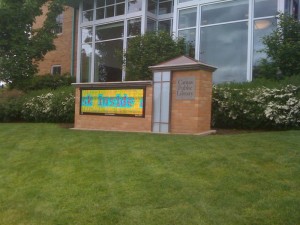 This is a view down into the library from the gallery.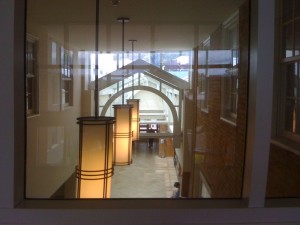 My other quilt is hanging on the back wall.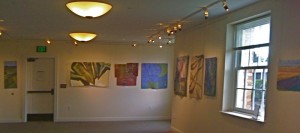 If you click on this you can get a better look. That is Meander in the center on the back wall.
I had an epiphany after my little show a couple of weeks ago and after looking at this show. I need to work larger. The work I do needs to be BIG!! I am quite happy with the Aspen quilt. I think it will make a nice impact.
That being said, the piece I am working on now will not be so big. I am constrained by the size of the shibori piece I am using. (See! That is a problem. I use my art cloth. I need to make it bigger!!)
Anyway, I am doing an abstract of an old growth forest using this felted roving and a shibori background.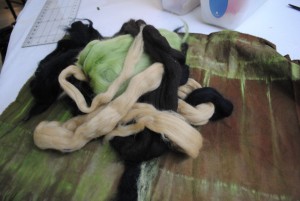 Here is my beginning attempt at felting trees with moss.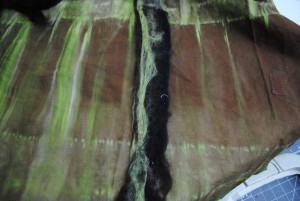 I broke the needles on my embellishment attachment so I have done more work on it with the hand needle punch. I like how it looks. I made a stupid beginner's error – nuff said!!
Instead of buying new needles, I may buy a dedicated embellisher tomorrow morning.  I really like the possibilities of using felted roving in some of my work.
Last month I blogged about sharing our favorite books at the HFD meeting. I finally got the list of books.
Chris:     Fine Art Quilts '97

Helene:  a book on Chinese art
Folk Tales of the Amur (primarily for the illustrations)
Designing from Nature by Dendel, 1978

Caroline:  Textile Translations by Maggie Grey

Deanna:  Quilt of Belonging by Bryan, 2006

Catherine:  Hundertwasser by Rand

Georgia:  Inspired to Stitch by Springall, 2005

Zee:       The Artist's Way by Cameron

12 Secrets of Highly Creative Women

Heart Steps by Cameron

Patsy:   Frontier by L'Amour '84

Gerrie:   Abstraction in Art and Nature by Hale, 1972

The Meaning of Trees by Hageneder

Oregon:  Images of the Landscape by Terrill

Teresa:   Design: a Lively Guide to Design Basics for Artists and Craftspeople by Aimone

Diane:    Nature's Studio by Colvin, 2005

Bonnie Halfpenny:  The Map as Art, by Harmon

Vickie:   When Wanderers Cease to Roam by Swift

Ila:        Quilt National 2003

Amy:    Bird by Bird by LaMott

Art and Fear by Bayles and Orland

Stitch Magic by Beaney & Littlejohn

Maarja:  The Creative Habit by Tharp

The Creative Artist by Leland

Shirley:  The Uncommon Quilter by Williamson 2007

Mary Goodson:  Surface Design for Fabric by Proctor & Lew

Laura Jaszkowski:  Art and Fear by Bayles and Orland

Organizing for the Creative Person by Lamping & Lehmkuhl, '93

Mary Arnold:  Drawing on the Right Side of the Brain by Edwards

Bonnie:   Nancy Crow:  Quilts and Influences

The Art of Richard Diebenkorn
I was intrigued by the book, Designing from Nature.  was able to find it on Amazon for about $4. It is a nice little source book for using forms from nature in art.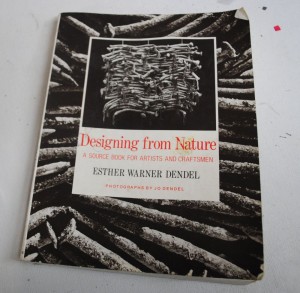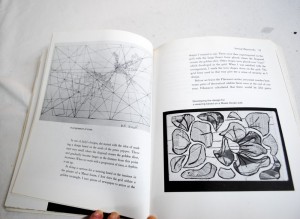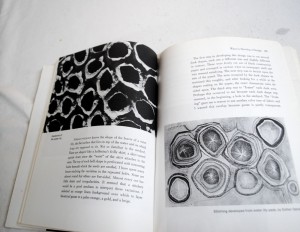 I guess you can tell that I did not make it to Eugene to take the workshop with Jason Pollen. Mr C really needed me to be around this week-end and since I am going on retreat with the STASH friends next week, I felt it was a good thing to have peaceful week-end at home.
I leave you with a photo of the beautiful eggs that I purchased at the Farmer's Market –