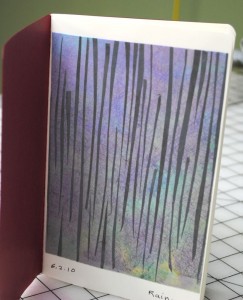 I am taking part in The Sketchbook Project. Each participant selects a color and a theme. I chose red and "This is not a sketchbook", for the theme. You can read more about it here. Mine arrived in the mail yesterday.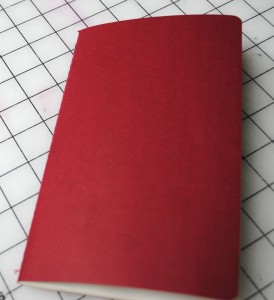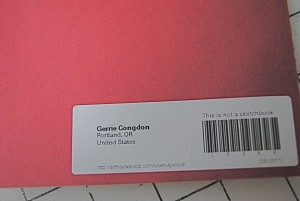 The sketchbooks are sent back to the Brooklyn Library of Art in January and will then go on tour.
Every day, (or most days!), I will come up with a word, idea or inspiration for the day and create a fiber sketch to interpret it.
Have I complained about living in a rain forest lately? It was pouring rain again today. We finally saw a bit of sunlight this evening around 6 pm. Sooooo, today's word is rain.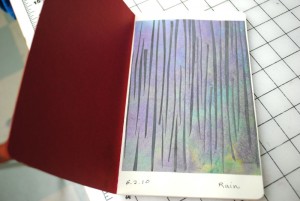 I am leaving space at the bottom of the page to document the date and the theme for the day.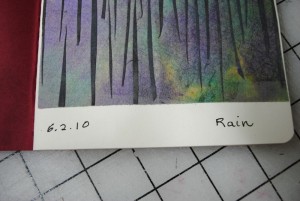 I hope I can keep up with this. It would probably be easier to actually sketch since I can take it with me.
A couple of weeks ago, I was playing with making prints using actual leaves. I learned this technique from the Carol Duval show on HGTV, years ago. I paint the backs of leaves, using a foam brush. Then, you carefully place it on fabric. Next, take some folded tissue paper (4 layers) and larger than the leaf and place it over the leaf and pat, pat, pat. The tissue paper picks up the stray paint and you get a nice impression of the leaf.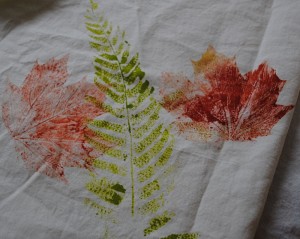 This afternoon, I had to get out of the house so I went out in the yard and took some photos of wet plants.