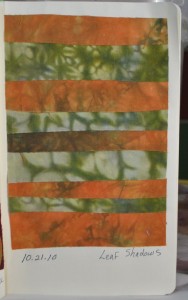 The fiber sketch for today is Leaf Shadows.
Today, I started work on preparing some fabric for the rusty Twelve X Twelve challenge. I have this piece of rust colored silk/cotton blend.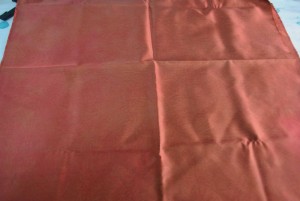 I notice the back of the fabric has a greenish patina so I thought perhaps it would discharge to a green color.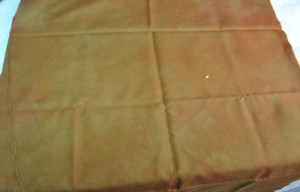 I used a new discharging product called deColourant. It is non-toxic and non-smelly. You print, paint or stamp with it. Let it dry and then iron it to discharge the dye. The more heat and steam, the more the color is removed.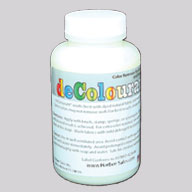 I stamped with corrugated cardboard, netting and a random dotted stamp. I dried it with a hair dryer and then ironed it. I first used my old Black & Decker and then I used the steam iron. And them, I blew a fuse!!
Anyway, this is the result.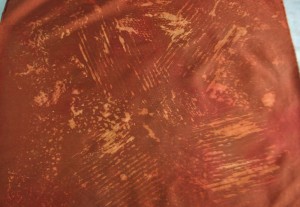 Since I didn't get any green color, I threw it in a bath with turquoise Colorhue dye. Well, I love this!!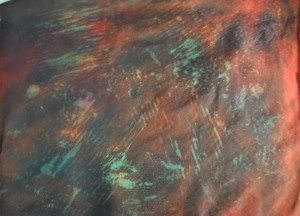 Unfortunately, this is a cotton/silk blend and the Colorhue dye only works on silk and wool. So when I washed it, all of the color was gone — except on my hands!
Tomorrow, I will mix up thiox with turquoise dye and try that.
By the way, the deColourant comes with added color which is deposited when the dye is discharged. I was sent a couple of samples – plain and mustard yellow. I have other colors on order. Here is a link to the supplier, Kandicorp.