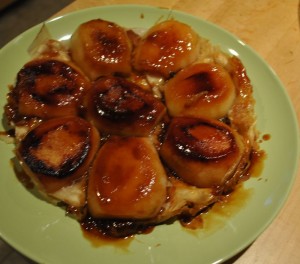 I had a great time cooking today. I used all the ingredients left from my organic farm produce this week. Above is the Pear Tart Tartin, which did not use any of the ingredients. It was delicious with organic vanilla ice cream.
I made a tomatillo salsa with the tomatillos and jalapeno peppers. It also has onion, cilantro and lime juice. It was so good. I did not take photos, but you can see photos of the recipe I used, here.
I used the kale and rosemary in a Kale and White Bean soup. The recipe is here.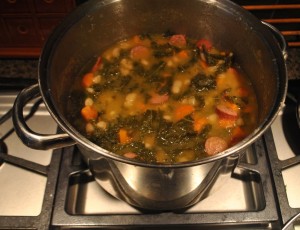 Steph made her fabulous sweet potato biscuits.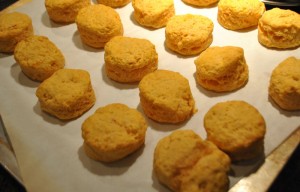 Here is the recipe:
Sweet Potato Biscuits
adapted from Martha Stewart Living Magazine
yield: about 20 small-size biscuits
1 pound sweet potatoes or yam (one large one is usually sufficient)
2 1/2 cups all-purpose flour
4 teaspoons baking powder
2 tablespoons sugar
1 teaspoon salt
1/4 teaspoon cayenne
8 tablespoons unsalted butter (chilled), cut into small pieces
1/4 cup milk
Preheat oven to 400 degrees
Prick the sweet potato and bake until soft (about one hour…you can also do this more quickly in a microwave). Once the sweet potato has cooled, scoop the flesh from the skin and pass through a food mill, ricer or sieve. You should have about 1 3/4 cups puree.
Stir together the flour, baking powder, sugar, salt and cayenne. Cut in butter with a pastry cutter (or use your fingers) until it resembles a course meal. Mix milk with sweet potato puree and add it to the other ingredients. Mix dough, just to incorporate (I use my hands). If the dough is really sticky, add a touch more flour. Turn dough out onto floured surface and knead a few times. Pat out to a 1/2 inch thickness. Cut biscuits with a biscuit-cutter or glass. We make ours small, about 2 inches in diameter. Place on parchment-lined cookie sheet and refrigerate for 10 minutes. Place in preheated oven and cook until risen and slightly brown, about 12 minutes (longer for larger biscuits). Serve warm.
I invited her and the family just so I could have some of these biscuits. I also roasted beets which we had on a salad of greens with goat cheese. It was a beautiful meal and very tasty.
Mia is always reading: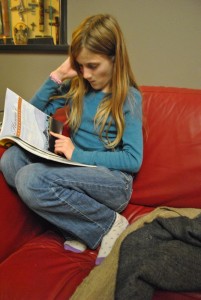 And Scooter was mostly on his good behavior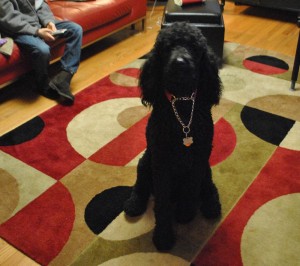 except when he snuck into the kitchen while we were eating dessert and knocked some dishes on the floor, trying to have some leftovers!!
No studio time today. Maybe tomorrow.