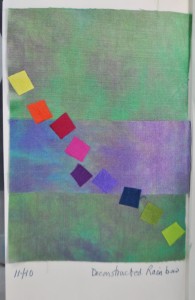 I finished both of my projects due today. The Rusty Square Dance was posted this morning. Today, I finished my self portrait to enter Mirror Mirror at Trinity Cathedral.
I made the deconstructed rainbow fiber sketch as an antidote to the work I have been doing which required lots of time at the sewing machine and much angst and unsewing.
We are happy in our house because the Giants just won the World Series. Having spent much of our lives together in the Bay Area, we have been big Giant fans.
Tomorrow is a big day for our country. I fear that the elections will usher in a a few years of  unbearable political wrangling. But, hope springs eternal. At least the terrible TV commercials will be gone.
Here is the self portrait after I quilted it.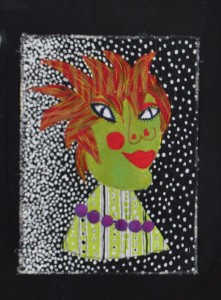 Here is a detail to show the stitching. Don't  you love the highlights in my hair?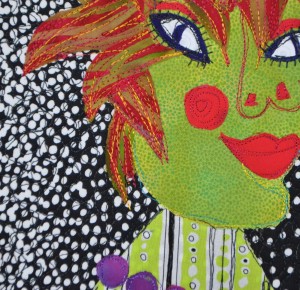 I mounted it with the other portrait on stretcher bars. I have titled it Then and Now. I decided to take artistic license and not add glasses.