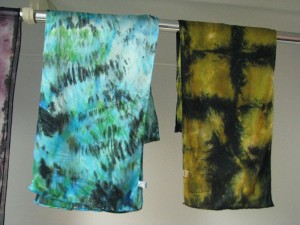 I really revel in leading a workshop — watching students create and experiment and produce lovely pieces of fiber art. These are the two pieces I did to demonstrate resist dyeing on silk. On the left is a pole wrapped silk and on the right is a fold and dip piece.
Trinity Cathedral is blessed with a large building for classrooms and offices. In the basement is an art studio complete with a kiln.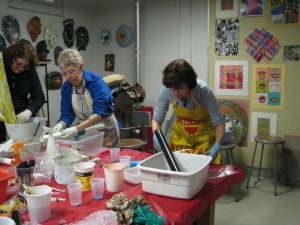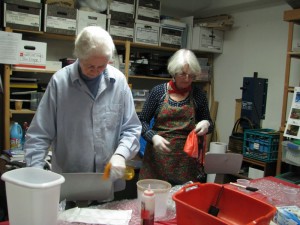 It is not a huge space so 6 – 8 students is all that I can handle. Here you see them at work with the poles and the dyes. We use Colorhue dyes which need no heat setting. It is instant gratification.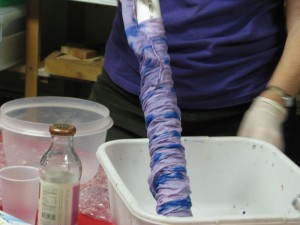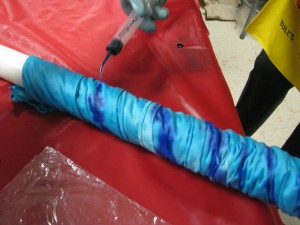 Here are some photos of their beautiful results. I had two repeat participants and they did the best work.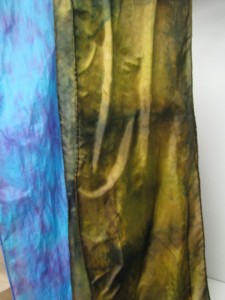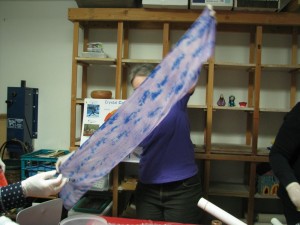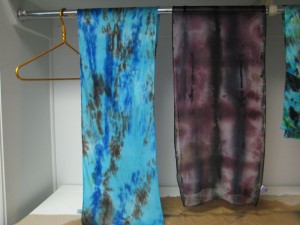 I love that piece on the right – she used eggplant, brown and black.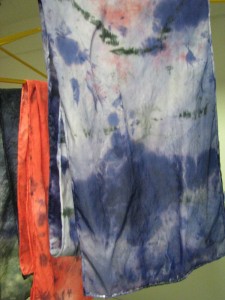 The woman who made this was not happy with it, but I love it.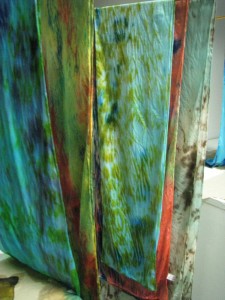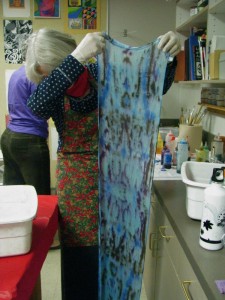 So, after this enjoyable morning, Mr C and I headed out to the upscale shopping center – Bridgeport Village. I picked up 3 new things from the Eileen Fisher store. I love her clothes. I have been wearing them for about 15 years. They last forever and are always in style. And they look pretty good on short fat ladies.
Tonight we had a luscious meal at a fairly new seafood restaurant in SE Portland – Fin. It has been a good day.
I do not have any thing positive regarding my BIL or my friend's husband. Ray is failing rather quickly. And, Roger, now has an infection which has complicated his recovery. Continue to keep them all in your good thoughts and prayers.
I am looking forward to getting back that hour of sleep I lost last spring.