I frittered away most of today. I can't remember what I was doing up until 2 pm when I headed down to the studio. Yesterday was a long day getting the Guild newsletter formatted and sent out. I knew that If I just got myself started, I would be a happy camper. Being creative is so energizing.
I mixed up some Jacquard indigo out on the patio and let it sit for an hour while I worked on the blouse that I am making. It was too big so I had to do some alterations. I also grabbed some  other fabrics to put in the indigo. The main reason for mixing up the indigo was to dye the shantung organza. I want to do another moon piece stitched to prefelt and shrunk. For my other piece, I discharged a circle. For this one, I wanted to create a circle resist. I drew a circle with a wash away pencil and then stitched it with a sewing machine basting stitch. I pulled the thread as tight as I could without breaking it. Then, I put a plastic bag over it and used a rubber band to close it tightly around the stitched circle. You can see it in the photo below. I folded the organza so that I have two sided to make two more shrinky dink quilts. I was very happy with the depth of color, too.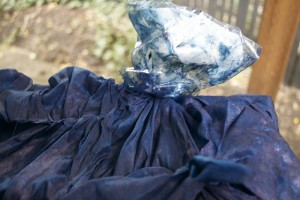 Here is my bucket of indigo.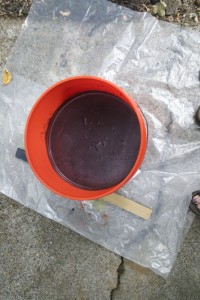 If you have not done indigo dyeing, you might not know how it works. It is important to keep oxygen out of the dye mix so you must be very careful to not stir it or muddle with it. When the fabric comes out it is green.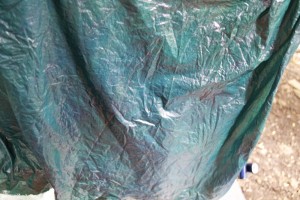 As the indigo oxidizes, it becomes blue. The more times you dip it in the indigo, the stronger the color.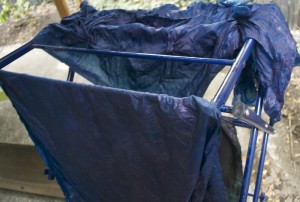 This is a cotton gauze scarf shibori wrapped on a pvc pipe. There is also a scrunched bundle of fabric held together with a rubber band.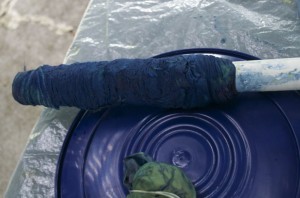 Here are the other results. The first is the cotton scarf – turned out really pretty.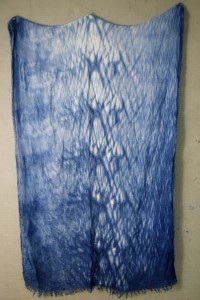 These are the same fabric which was a wimpy yellow green color with some other colors in some areas. I particularly like the accordion pleated piece.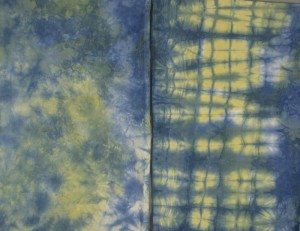 These were two different hand-dyes that I overdyed. The bottom piece had lots of green in it.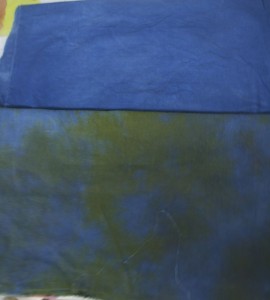 This was cotton shibori wrapped on a pole. I didn't tie it, I just scrunched it.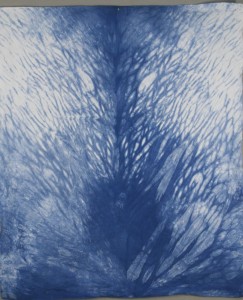 I had dyed this shirt (originally white) when I did indigo dyeing with Stephanie a while ago, but the color was wimpy and not even. I really like it now.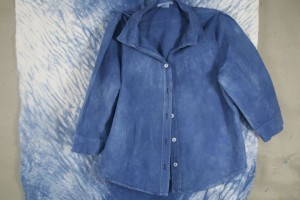 I found some photos from our trip on my camera. This is what the sky looked like when we drove up I5 to Grant's Pass. The smoke from the wildfires made the sun red and the sky gray.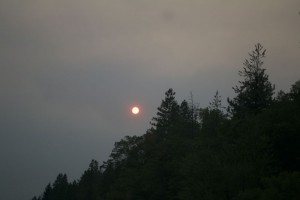 I also found this photo of Paige. She had just discovered that she could put the little attachments on and take them off. Mark said she used to just throw them!! Such a wonderful age.